A Short Chronology of Annette's Life
1901 Catherine Annette Hanshaw was born at her parent's residence in Manhattan on October 18, 1901. [Ed. While Annette sometimes gave her birth date as 1910, nephew Frank W. Hanshaw III confirms 1901 as the date on Annette's birth certificate.] Click here for some nice early Hanshaw ancestry links.
1926 In March Annette sang on local radio a couple of known times while visiting in Florida with her family prior to making her first recording. Her first commercial recordings "Black Bottom" (matrix E-2518) & "Six Feet of Papa" (E-2519) were made in New York on September 12 & 18.
1928 Recorded under various pseudonyms Gay Ellis, Dot Dare, and Patsy Young, the latter two were used for Annette's Mae Questel (Betty Boop) impersonations.
1929 Began appearing on radio. Annette marries Pathe Records executive Herman "Wally" Rose.
Early 1930s On the radio with Glen Grey's Casa Loma Orchestra.
1932 Starts two-year run on "Captain Henry's Maxwell House Show Boat" on NBC Radio. The show was the biggest production ever conceived for radio. Annette plays the Helen Morgan part from the theatrical version of Jerome Kern and Oscar Hammerstein's Show Boat.
1934 Last recordings made on February 3.
1937 Annette quits her singing career with her last song on "The Chevrolet Musical Moments Revue" radio program on December 6. Retires to become a housewife. Annette never really liked the show business life. Twice, in her much later life, she made private test records in comeback tries but was unsuccessful.
1954 Annette's husband Herman Rose dies. She later marries Herb Kurtin.
1985 Annette Hanshaw Rose Kurtin passes on Wednesday, March 13 and is laid to rest in Ferncliff Cemetery (Unit 3, Alcove B, Side Companion Crypt 43), Hartsdale, New York.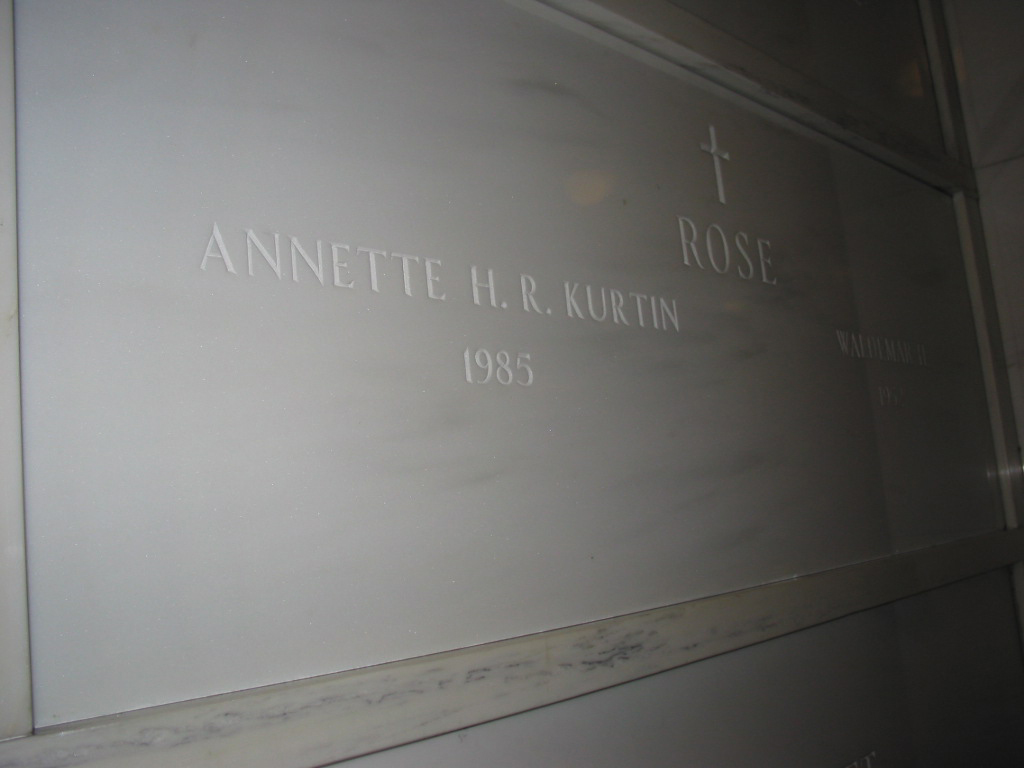 Annette Hanshaw's Grave
Annette Hanshaw whose career only lasted about 10 years was known as "The Personality Girl". Her short-lived recording career produced upwards to 250 sides. Annette was often confused for the voice of Betty Boop - singer Mae Questel. She was a chief rival of Ruth Etting in the late 1920's to mid-1930's era. This petite, shy, introverted girl chose retirement over fame. It is said that she was more comfortable in the recording studio amongst the musicians than public appearances. Unlike most performers of the day, Annette never toured or performed on stage after becoming famous.
During the 1970's Annette appeared on a Canadian Broadcast Company radio show called "The Entertainers" (not to be confused with Jack Cullen"s 1972 telephone interview above). Copies of the broadcast have made their way into collector's hands. The show features reminisces from famous Columbia recording producer John Hammond, well-known Jazz historian Brian Rust, and some others who know Annette during her heyday. Several of Annette's songs are played as well as Annette speaking of the various periods in her life. From the show these excerpts are taken to shed more light on Annette Hanshaw:
Annette came from a well-to-do family. Aunt Nellie McCoy & cousin Bob "Uke" Hanshaw were well-known vaudeville performers.
Father Frank ran away to join circus but returned. He was very musically inclined and loved show business.
Annette demo'ed sheet music in a Hanshaw family-owned music store in Mount Kisco, New York.
She sang for the guests at hotels owned by her father.
Annette really wanted to be a portrait painter. She spent a year at the National Academy of Design.
Annette says that her professional career started when she sang at society and birthday parties in Greenwich, Round Hill, and Westchester Estates and would be paid for it.
John Hammond states that Annette had no vaudeville career but went straight to records. He also says that this shy, retiring singer didn't how good she was.
EMI producer Brian Rust who traveled from the UK to New York to meet with Annette says "She was a musician's singer".
Annette's favorite singers were Marion Harris (1896-1944), Sophie Tucker (1884-1966), and Blossom Seeley (1891-1972).
Three recordings Annette did not want played on the radio
Rich Conaty shares this anecdote with us:
Annette was a Big Broadcast radio show listener. But in a conversation with Rich, Annette requested that three songs not be played on his radio show. Rich: "I'm looking at two Sunbeam LPs. Annette wanted me to avoid Lover, Come Back to Me, You'll Always Be the Same Sweetheart, and Sweetheart Darlin'. I'm not sure why, but I've respected her wishes".
Special thanks to Annette Hanshaw authority Preston Meeks for his help on this web site. Thanks to Annette's nephew Frank W. Hanshaw III for providing Hanshaw family history. And also extended thanks to Rich Conaty for his Annette Hanshaw reminisces on the Big Broadcast radio show heard each Sunday night on WFUV.