Home
Convention City
Peggy English
Jane Green
Grey Gull Project
Marion Harris
Scrappy Lambert
Keller Sisters & Lynch
Ray Mayer & Edith Evans
Misc 1920's
New 1920's
1920's Sheet Music
1930's Vocalists
NJ Record Bash
Bee Palmer
Finding Bee Palmer
Pathé Rooster
Jack Pettis
Paul Specht AHO
Frances Sper
Aileen Stanley
Irene Taylor
Esther Walker
Margaret Young
Annette Hanshaw
Biography
Recordings
Sheet Music
Photos
Maxwell House Ads
Links
Brox Sisters
Photos
Recordings
Sheet Music
Movies
Bobbe Brox Obit
Cliff Edwards
Biography
Recordings
Movies
Books
Instruments
Sheet Music
Photos
Miscellaneous
Links
Ruth Etting
Recordings
Sheet Music
Movies
Photos
Jazz Age Links
Banjos
Dixieland Jazz
Search This Site
Not many singers can be so intimate and so ardent. (a contemporary review of Irene Taylor)
There was something in her that just came out naturally, as she never had any formal musical training. Irene Taylor had quite a way with a song, frequently bending the last note of a phrase which, when combined with a bluesy, down-home feeling, made her appealing and hard to forget. Cabaret legend Bobby Short never forgot her. In an NPR commemorative interview segment that aired the day he died (March 21, 2005), he enthusiastically recalled working as a child entertainer on the same bill with Irene Taylor in Kansas City, calling her "marvelous." If you weren't lucky enough to see her in person, her special magic cast its spell just as well on radio and recordings. Her spirited singing, combined with Bix Beiderbecke's energetic and uplifting cornet passages, make Mississippi Mud, as recorded in February 1928 by the Paul Whiteman Orchestra, nothing short of electrifying. The record became a best-seller. The Rhythm Boys (Bing Crosby, Harry Barris and Al Rinker) are in there, too, but vocally Mississippi Mud is Irene's record, hands-down. With such an impressive performance, one can only wonder why she was not credited on the original pressing (two different takes were released - Victor 21274 (take 3) was the original 1928 release and the label simply says "With vocal chorus." Victor 25366 (take 2) was reissued in 1936 with the label reading: "Featuring BIX BEIDERBECKE, Original Rhythm Boys and Izzy Friedman.")
In 1928 it didn't get any bigger-time than Paul Whiteman, the "King of Jazz," so he would naturally receive the lion's share of publicity anywhere, especially on a record label. Perhaps it was some solace to the dynamic little lady (5 feet tall and 108 pounds) that it was generally acknowledged that on this one-shot recording date a virtually unknown singer had knocked 'em stone-cold-dead with the nation's best-known orchestra. Even before young Irene Taylor met Paul Whiteman, she had been working hard and impressing audiences wherever she appeared and was well on the road to fame. She recorded two more sides for Victor later in the year in Chicago, but both were rejected. I Must Have That Man survives and hearing Irene's exuberant and rhythmic delivery makes you wonder why the side was not issued.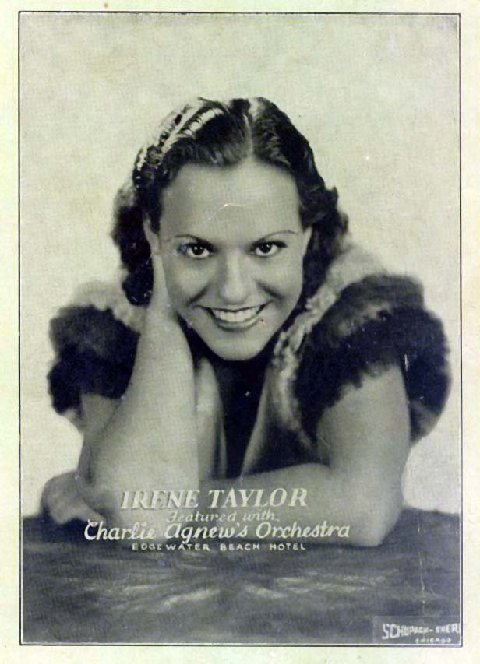 With Charlie Agnew's Orchestra, 1930's
(Courtesy of Peter Doyle)
Piecing together Irene's early years revealed an itinerant childhood with stability being provided by her maternal grandparents. Conflicting information is bound to surface, especially when researching entertainment personalities from the Golden - but oftentimes not so factual - Age of Press Agentry. Whether due to heavy embroidery of facts by the artists themselves or by news reporters with faulty recall, picking through contemporary news reports can be alternately fun and frustrating. Differing news reports over the years gave Irene's birthplace as St. Louis, Missouri or Gainesville, Texas. But Irene Isabel Taylor was born August 16, 1906 in Cape Girardeau, Missouri, the daughter of (John) Wilson Taylor and (Claudia) Laura Gunn, both natives of Missouri. Wilson Taylor had been described in news reports as a judge on the Supreme Court of Missouri but was in reality an alcoholic. The marriage did not last, and Laura, Irene and her younger brother, Claude Wesley ("Buster") moved in with Laura's parents, Claude and Orpha Gunn. The 1910 Federal Census enumerated Laura Taylor as a divorcee living with her two children at her parents' home in Parsons, Kansas. After the birth of a third child (Maxine) in 1911, who Laura eventually gave up for adoption in St. Louis in 1912, she settled in Arizona where, according to family history, she was keeping house for a man who already had children (and did not want more). What became of Laura Gunn Taylor is a mystery, and there is no evidence that she kept in contact with her children or the rest of her family. The 1920 census showed Irene and her brother living with their grandparents in Muskogee, Oklahoma. Muskogee is the truest "hometown" for Irene, as she graduated (or left) Central High School in Muskogee at age 16 to pursue a career on the stage.
Asked about her early years Irene was quoted in 1932: "It really began back in Cape Girardeau, Missouri. They tell me I started to sing a few days after I was born. Maybe that's a bit strong, but I did make my first public appearance at the age of 5. I sang, Oh, You Beautiful Doll in St. Louis and I was not frightened!" Another interview at this time quoted her as saying, "And I remember singing for every school function, Sunday school entertainment and party that I attended in dear old Dallas." Irene's grandparents left Muskogee in the early 1930's to settle in Gainesville, Texas, some 150 miles north of Dallas near the Red River on the Oklahoma border. Two of the Gunns' four daughters - Irene's aunts, "Bunny" (Rose Alma) and Alice (two sisters who had married two brothers with the surname of Morris) also lived in Gainesville with their families. Irene remained close with her aunts and their families throughout her life, and she was especially close to her first cousin, Orpha Morris (Bunny's daughter) who, only three years her junior, was more like a sister.

In 1924 Irene was hired by Dallas-based orchestra leader Jack Gardner, and it was in that city in October of 1925 that 19-year-old Irene made her recording debut singing two blues numbers written by pianist Gardner - I Did Wanta, But I Don't Wanta Now and I Ain't Thinkin' 'Bout You - for the OKeh label. Just from hearing these sides it wouldn't have been a stretch to assume that Irene Taylor was one of the many African-American singers who were making so many blues recordings in the 1920s. Because her range is lower on these recordings (perhaps she was told to "down deep it" to better capture a blues feel) her voice bears little resemblance to her future records. Even at this early date she exhibited an original style that audiences were quick to notice. Her billing at the Hollywood Club in Galveston in 1926 was "Irene Taylor - A Really Different Singer of Blues."

Prior to joining Jack Gardner in Dallas, she had been in Kansas City, where she sang with the famous Coon-Sanders Night Hawks over WDAF (the station of the Kansas City Star) and the Kuhn Chaquette Orchestra. From 1926 to 1930 she was establishing herself as a veteran trouper on the Publix circuit (her billing was "The Southern Darling") traveling from coast to coast appearing at major theaters in package shows with titles such as "Pagoda Land," "Montmartre," "Painted Melodies" and the "Blue Revue." Along the way - in Chicago, Los Angeles and New York - she worked with nationally-known orchestra leaders such as Paul Ash, George Olsen, Vincent Lopez and Blue Steele. Irene eventually settled in Chicago, where she became an established radio star performing frequently over KYW and several other stations, such as WENR of the NBC network.
As to where and when Paul Whiteman and Irene first met, it could have been when both were traveling the Publix circuit, and a few writeups specifically mention Chicago as the location of their first meeting. But the record is clear that it was in New York at the Liederkranz Hall in February of 1928 that Irene Taylor recorded Mississippi Mud. Author Don Rayno, who has tracked the Paul Whiteman band in more detail than anyone else for his mammoth two-part Whiteman biography, Paul Whiteman: Pioneer in American Music (Volume 1 ends with 1930; Volume 2 is scheduled to be published by the end of 2011) states that Irene Taylor was simply a guest vocalist on the Mississippi Mud date. She did not appear as a regular vocalist with the band until four years later when she was hired to replace Mildred Bailey.
Charlie Agnew's Orchestra and Irene Taylor were booked through the NBC artists' service at the very beginning of 1932 to perform at the prestigious Edgewater Beach Hotel in Chicago and the gig included radio broadcasting of sponsored programs from the hotel over the NBC network. One of their regular spots on Sundays was called "The Yeast Foamers Program." Paul Whiteman had held the Edgewater Beach spot for a long run immediately prior to Agnew. Later in the year Whiteman's salary conflicts with his star vocalist, Mildred Bailey, came to a head. When the Whiteman band played the New York Paramount in June 1932, Mildred refused to appear unless her weekly salary was upped from her usual $1,250 to $2,000. Whiteman was reported to have said, "Okay, give her the band. I'll sing for the $1,250." Sylvia Froos was hired for the Paramount engagement. By September, Mildred had parted company with the Whiteman troupe and played the Paramount as a solo act. She was eventually signed by the CBS network, which was famous for giving the big publicity buildup that had made stars of such artists as Bing Crosby, Kate Smith, the Boswell Sisters and the Mills Brothers.

Since Whiteman had no doubt seen Irene perform with Charlie Agnew in Chicago at the Edgewater Beach, it did not take long for him to offer her the job to replace Mildred Bailey. Mildred Bailey was a tough act to follow. But Irene's subsequent recordings (November 17, 1932) of Willow Weep For Me (especially written for her by Ann Ronell; the arrangement was by Hawley Ades) and In the Dim, Dim Dawning (arrangement by Charles Wolcott) showcased the talents of the Whiteman orchestra and Irene in a way that was nothing short of sensational. Matty Malneck was the arranger on another song from this session, So At Last It's Come To This. A national radio hookup from New York's Biltmore Hotel ensured that those who could not afford to buy records in those Depression days could hear that Whiteman's new singer was doing more than all right.
Edgar Jackson, longtime record reviewer for Great Britain's The Gramophone, had this to say about Whiteman's new vocalist, whose recordings were released in Great Britain on two separate disks on the HMV label:
On the reverse are Paul Whiteman and His Orchestra playing In the Dim Dim Dawning. This is one of the brightest performances we have had from the rotund Paul, and introduces us for the first time to a new girl singer he has found. Her name is Irene Taylor. The little lady's voice is perhaps a trifle hard, but has the virility of youth. And has she style? Just wait till you hear her. She sings also in Whiteman's record of the slow fox-trot, Willow Weep For Me. The arrangement is very colourful and exquisitely played. It is the best record by Whiteman I have heard since the old days.
Perhaps the most pronounced evidence of Irene's special feel for the blues (she had a unique delivery reminiscent of Connie Boswell and Teddy Grace) is from the famous 1932 Whiteman picture record (Victor 39000) called A Night With Paul Whiteman at the Biltmore. Whiteman's orchestra and his major name performers (Ramona, Red McKenzie, Peggy Healy, the Rhythm Boys among others) are all given brief song passages in a two-part medley format. Irene's St. Louis Blues begins the second side and makes you forget everyone else - in the best show business tradition, she leaves you clamoring for more. (St. Louis Blues had been a particular favorite of her audiences on the Publix circuit). Hearing her work such magic on a record, one can only imagine how she affected a live audience. (In 1937 she made such a hit at the Casanova nightclub in Hollywood that she played nine return engagements).
It was in New York during her tenure with Whiteman that she met the handsome and multi-talented Seger Ellis, who at the time was working in a theatrical management firm. It wasn't long before Seger became her personal manager, and his guidance paid off noticeably when in late 1933, Irene was signed for the prestigious Camel Caravan radio show with Glen Gray and the Casa Loma Orchestra which aired over the CBS network. They eventually married on April 11, 1938 in Chillicothe, Missouri, well after they decided to combine their careers with Seger leading an orchestra in his own name and with both of them contributing the vocals.
At the time Seger Ellis first met Irene, he was not yet 30. But he already had quite an impressive background and a very successful career. A native of Houston, Seger, like Irene, had done his share of rubbing shoulders and recording (as a singer and pianist) with jazz legends (Louis Armstrong, Tommy and Jimmy Dorsey, Eddie Lang, Hoagy Carmichael and Joe Venuti to name a few!) Seger Ellis wore many hats during a long career but he considered himself primarily a jazz pianist, and his first recordings, made in 1925, were piano solos featuring a distinct down-home flavor. His crooning vocals on several OKeh and Brunswick sides of 1929 and 1930 with the stellar accompaniment listed above can be heard on the excellent CD Seger Ellis: Jazz in a Sentimental Mood issued on The Old Masters (TOM) label. Jazz reissue producer, writer and musicologist Michael Brooks related how he once played Seger's Sentimental Blues for piano legend Willie "the Lion" Smith. The Lion had a pronouncement: "I never thought I'd hear genuine whorehouse piano again!"

As to what would engender such a memorable comment from such a seasoned pro as Willie "The Lion" Smith (which sent me scrambling to find a copy of Sentimental Blues!), we have Seger himself, from a 1962 interview from Britain's Jazz Journal International, describing his piano technique. But a little back story is warranted. Seger Ellis cut his very first sides, all piano solos, when a Victor mobile unit came through Houston looking for new talent. The sessions were recorded acoustically and Seger was warned beforehand that the high and low notes might not register successfully. That turned out to be the case and the recordings were not issued. (Eddie King was the name of the Victor A & R man who arranged that session on March 18, 1925. A few days later King was in New Orleans recording the first sides of the Boswell Sisters). A few months later, Victor wanted Seger to try again using the new electrical process, so he went to Camden, New Jersey in August where his composition Sentimental Blues and several other sides were recorded. Seger had just turned 21. Here's how he described his particular way of playing:
I had a weird left hand. It puzzled everybody... they were all playing one note and a chord then, like Fats Waller... My stuff, it was gutbucket but I deviated slightly from the standard blues changes, put in a few extra chords. Where did I learn to play? Well, there were three piano players in town then who had it sewed up when I was a kid. They played all the parties where they hired piano players. If they were rich they hired both a piano and a drum. Those guys were Jack Sharpe, Charley Dickson and the only guy who's still talked about much, Peck Kelley. I used to stand around and admire those guys. Finally, I talked Jack Sharpe into teaching me. He didn't like the idea. Said, 'Listen, kid, I'll teach you five dollars a lesson.' Now that was a lot of money in those days but my family was pretty well to do and I said I'd take him up on it. I think he hated me for it. He got mad and said, 'Now, listen, don't come over to the house until five in the afternoon because I don't get up till then.' He'd get up with a hangover and he needed me like a hole in the head. The teaching was just him playing slowly and I'd watch him. I took reading lessons from the lady around the corner... you know the type; piano teacher around the corner... Yes, I heard Peck (Kelley) as a kid but I wasn't influenced by him. You see, I don't feel I could do what Peck does. A certain amount of musicians are completely individual. Nobody could play trumpet like Armstrong. He looked up to [King] Oliver but still he had that individual thing.
While in Cincinnati performing on powerful 500,000-watt WLW, "The Nation's Station," Seger was knocked out by the talent of four fellow performers who were brothers named John, Herbert, Harry and Donald - the Mills Brothers. He became their first manager and began a career booking radio talent.

After leaving Whiteman in 1933, Irene focused on radio work in New York. Her natural talent, combined with Seger's connections and guidance, made her one of the most popular vocalists on network radio. One radio column mentioned she had set some kind of record by being heard on the air with 21 different orchestras. It was also in 1933 that Irene Taylor recorded six sides for Vocalion during two session dates. Unlike all of her other recorded work, these three records feature her as the primary name on the label and do not relegate her to just a vocal chorus. Shadows on the Swanee and That Dallas Man are particular standouts. These Vocalion sides are considered to be her rarest recordings and capture her at peak performance, with first-rate accompaniment provided by Tommy and Jimmy Dorsey and other ARC (American Record Company) house musicians such as Manny Klein.

Playing the Palace in New York was every performer's dream, and Irene's radio popularity gave her headliner status at the fabled theater in March of 1934. By the time July rolled around, she was filing for bankruptcy. The petition was filed as "Irene Martin - also known as Irene Taylor, entertainer" and it listed liabilities of $5,938 with no assets. (The surname of Martin listed here is a mystery). Her address was noted as 424 East 52nd Street. That year she made a rare film appearance in a Vitaphone short entitled Listening In in which she sang I'm Not Lazy, I'm Just Dreamin'. Charlie Bourne was her excellent accompanist seen in this film, and he teamed with Irene for many of her vaudeville performances.
In doing research for this article, I located reference to one other film appearance by Irene: a 1933 short featuring Walter Winchell as Master of Ceremonies called I Know Everybody and Everybody's Racket. Jazz film expert Mark Cantor sent the script for the film, which describes Winchell briefly spotting Irene in a nightclub setting - but according to the script, she does not sing! This film was part of a series of music shorts produced by Universal, all hosted by prominent newspaper columnists: Winchell, Mark Hellinger, Louis Sobol, and New York Daily Mirror radio columnist Nick Kenny. In Nick Kenny's initial film in this series, a similar "seen but not heard" situation also occurs concerning Mildred Bailey. In the film Art Jarrett - Nick Kenny's Radio Thrills with Radio Stars, Mildred is one of a group of personalities (Art Jarrett, Armida, Leo Reisman, Donald Novis, Arthur Tracy, Jacques Renard and Buddy Rogers) introduced by Kenny as subjects of his forthcoming films. All Mildred does is say "Hello!" This brief "Hello!" is the only film footage known to exist of the legendary Mildred Bailey. Despite an ad (see accompanying illustration below from Film Daily Yearbook) which lists a subsequent short featuring Mildred and Little Jack Little, she did not appear in another film. The film Married or Single featuring Little Jack Little was shot for the series, but Little's singing co-star for the film was Irene Beasley.

Researcher Rich Finegan informed me that there's yet another film short featuring Irene in the Library of Congress archives: a 1934 Van Beuren/RKO production entitled Everybody Likes Music, starring Shemp Howard (of Three Stooges fame), Irene Taylor, Donald Novis and Meyer Davis & His Orchestra. Rich reports that Irene sings Between You and Me and joins Donald Novis and others on another song. It is a rare film that doesn't seem to exist anywhere else but the Library of Congress.
In December 1934, Irene was in Hollywood to be a guest on her old friend Bing Crosby's Tuesday night radio program sponsored by Woodbury soap, and for the next few years Seger and Irene spent most of their time on the West Coast where they became part of the show business community and were friends not only with Crosby but also Frank Sinatra. Seger organized a band ensemble known as the "Choir of Brass" beginning in late 1935 which lasted until 1941. The "Choir of Brass" was considered avant-garde because of its stable of instruments, as instead of the usual reed section the band featured eight brass and one reed instrument. (Legendary clarinetist Irving Fazola was the reed in the 1937 ensemble). With Seger and Irene providing the vocals, the "Choir of Brass" toured frequently and occasionally recorded. The Metronome's reviewer caught the act at the Palomar Ballroom on August 1, 1937 as part of (an almost) four-hour event called "Hollywood's Second Swing Concert":
That fine band which has been raved about by them who knows (sic), put in an appearance next. Seger Ellis and his Choir in Brass. Why Seger doesn't get the breaks is probably because the old soaks who book the bands for their respective spots are too narrow-minded to take a chance with a band that has no sax section. Ellis can top a lot of orthodox bands and he provides it again at the Concert. Irene Taylor sure knows the ins and outs for putting a song over. They got a fine reception and shouts for more!
("Hollywood's First Swing Concert" had been a five-hour event in May 1937 at the Pan-Pacific Auditorium organized by Bing Crosby - his brothers Everett and Larry handled the details - as a benefit for pianist Joe Sullivan, who was battling tuberculosis. With such performers as Bing, Connie Boswell, Red Norvo, Johnny Mercer, Ella Logan, guitar duo Dick McDonough and Carl Kress and the orchestras of Woody Herman, Earl Hines, Ray Noble, Jimmy Dorsey, Louis Prima, Harry Owens, Jimmie Grier, Victor Young and Ben Pollack, it was attended by 6,000 and heard over the radio. This concert broke the house record and raised $3,000 for Joe Sullivan).
By 1939 Seger had reorganized the Choir of Brass to include a more conventional four-man reed section. In reviewing a few of the recordings Orchestra World (April 1939) remarked, "Ellis probably will discover that a complete sax and reed section properly apportioned is absolutely essential in the modern scheme of swing things." Heard today, the "Choir of Brass" recordings exhibit an exciting and vibrant style that more than live up to The Metronome's swing concert review. (Brunswick 8362, Me and My Candid Camera, is a swinger from start to finish, and the flip side, I'm A Lucky Devil highlights Seger's piano prowess. Irene's vocals on both sides give a one-two punch which make a good record even better). Seger conceded that the "Choir of Brass" was ahead of its time:
The trouble with the Choir was that we were too far ahead to do any good. By the time it started hitting we had to give up. We were out of money. The things that band did... if we'd have done them four years later we'd have made a hell of a lot of money. But the public wasn't ready for it then. Goodman was just breaking the ice with something that was swinging and loud and he hadn't broken enough to let everybody in. Our best arranger, by the way, was named Spud Murphy. He helped to create Goodman and he used to write for Fletcher Henderson. He made a book of some 80 arrangements for the Brass Choir. Well, I broke up the band and went in to the Army Corps in September, 1942. Then I did a defense job. Following that is when I really started writing songs.
The above quote, also from Jazz Journal International, also included a cryptic comment: "During this fast-moving period there were three marriages, all failures." Seger and Irene divorced during World War II in California. Seger Ellis died in Houston September 29, 1995 at age 91.

Irene married William T. Gillett, who was in the restaurant business, in California in the 1940s. According to Orpha Morris' daughter, Paula Rose (Irene's second cousin), Bill Gillett was there for Irene when she needed him most. In 1944 a mysterious undiagnosed illness caused Irene to lose her voice and caused her dark hair to grey almost overnight. Under Bill Gillett's supportive and loving care, Irene gradually stabilized and recovered, but a full-time singing career was now a thing of the past. They decided to leave California and move to Dallas, also in 1944.
Singing had been her life - and she carried on as best she could. She told the Dallas Times-Herald in 1965: "I was on top of the world when it suddenly ended in 1944. It was a hard adjustment. Not only was my career gone, but I couldn't even speak for a year without sounding like I had laryngitis. I burned all of my scrapbooks, records and everything else that was a link with the past. I'm afraid I was very bitter." Always supportive in every way, Bill Gillett saved a few of the mementoes. For a while she coached singers, and in December 1945 had a brief engagement at the Hi Hat Club. But for all practical purposes her singing career was over. She was hired by the exclusive Cipango Club as a hostess and publicity person. The Cipango Club was a place that visiting celebrities went after their shows, and when Seger Ellis paid a late-night visit there in 1948, an informal jam session ensued with his ex-wife which was reported by the Dallas Morning News: "She has a terrific way with torch song, and tricks of vocal presentation that some of the new crop of night club canaries not only don't know, they don't even suspect." Apparently the old magic was still there.
Paula Rose remembered attending a performance, accompanied by her mother and Irene, of a famous pianist (whose name she can't recall) whose small combo played the Strictly Tabu club in Dallas in 1976 or 1977. When the pianist learned that Irene Taylor was in the audience, he asked her to come onstage, and Irene sang her crowd-pleaser from so long ago, St. Louis Blues. Paula commented that singer Toni Fisher, whose bombastic, emotional The Big Hurt was a hit, in 1959, reminded her of Irene.
Bill Gillett became very successful in Dallas as a sales executive for the Gardner Hotel Supply Company, and Orpha and Paula spent a lot of time with them at their home and on their 36-foot yacht. Paula remembers Irene as always elegantly dressed, with flashing brown eyes and an olive complexion. She was outgoing, personable, as well as glamorous right up until the end of her life. Her signature perfume was Shalimar.
Bill Gillett died in December of 1967 and was buried in the family plot in Glendale, California. Irene remained in Dallas, keeping her close family ties with her cousins Orpha and Paula. Irene passed away in Dallas on June 24, 1988.
One of those rare performers whose recordings capture an immediacy and exhilaration that's characteristic of live performances, Irene Taylor's special quality and spirit live on in records which are very much "now."

David McCain
Washington, New Jersey
May 2011
helvetia3@aol.com
CODA: IRENE TAYLOR---A RESEARCH CHALLENGE!
A certain article [click on images below to view] I located early in my research using newspaperarchive.com made the excavating required for this article alternately fun, interesting and frustrating - and sometimes all three at the same time! Because of that article, it took quite a while to unravel the life journey of Irene Taylor and for a while I thought she would be forever shrouded in an impenetrable mystique.

The source of such confusion was an article published in the October 24, 1965 issue of The Brazosport Facts (Freeport, Texas) which featured an interview accompanied by a not-too-clear photo of one Dixie Hayles, who spoke of a show business past with Paul Whiteman when she was billed as Irene Taylor: "I was with Paul Whiteman's band for several years and was once classed as a top-notch blues singer. I beat out Ginger Rogers for the job when I tried out at the auditions." (The Ginger Rogers audition story was news to Whiteman biographer Don Rayno, and I even got a copy of Ginger's 1991 autobiography (Ginger: My Story) to see if I could place her in New York in 1928 or find anything about Whiteman!) Other brief biographical facts from this article just didn't add up (such as graduating high school in Iowa and spending part of her childhood in the Philippines). Not only did the article have a catchy title: "Her varied career ranges from blues singer to truck driver," but it also included a few recipes! I had to fight hard to overcome my inclination to hope that this headline was true. How could you not admire someone who could re-invent herself like this? (In addition to blues singing and truck driving, Dixie Hayles also managed a fishing pier and was an early animal rights advocate). But persistence and my more practical side combined to make me forge on and do my utmost to verify - or nullify - that the multi-tasking marvel with another name could really do all those things and still be the Irene Taylor I was seeking.
So needless to say, the Brazosport Facts article had me and my research assistants - Bill Cappello and David Garrick - scratching our heads on more than one occasion, as, unbeknownst to us, we were trying to reconcile facts from two separate lives. Bill located Dixie Hayles' daughter-in-law in Midland, Texas who we both called. Gisela Hayles did know of Dixie's show business past and gave us the information that Dixie had died at a half-sister's home in Tulsa, Oklahoma some time in the 1980s. Since we had no definite death date for Irene, our efforts in trying to find her actual date of death was fruitless, as we were not only searching in the wrong place, but with the wrong name! Finally, David Garrick located a death record not in Tulsa, but in Dallas. And yet another name was thrown into the mix - the death record was for an Irene T. Gillett. But the birth date matched our research, and I contacted the Dallas Public Library to obtain the newspaper obituary, which listed Orpha Grovert and her daughter Paula Rose as survivors. A phone call was made to Paula in Dallas. Paula had never heard of Joseph Hayles, and likewise, the name William T. Gillett meant nothing to Gisela Hayles. I sent the Brazosport Facts article to Paula Rose. As added proof of her assertion that "there's no way Dixie Hayles was Irene Taylor," Paula sent the Dallas Times-Herald article of July 4, 1965 which had a current photo of Irene Taylor Gillett. Mystery solved! (And David Garrick was able to sleep at night again, as from the beginning he maintained that the Andy Griffith Show "Aint Bee"-looking woman in the Brazosport Facts photo couldn't possibly be our glamorous Irene Taylor!)

So let the researcher beware! I'm sure Irene would have gotten a Texas-size chuckle out of the confusion. And Irene, even though it turns out you didn't drive a truck, I still love you. Your wonderful singing remains more than enough!



Gratitude to the following musicologists and record collectors who provided invaluable assistance by helping me compile Irene's recordings. (We're still looking for the two on the Ammor label):
Michael Brooks, Newark, New Jersey
Don Chichester, Roanoke, Virginia
Alan Cooperman, Millington, New Jersey
Dave Dixon, Vancouver, British Columbia
Peter Doyle, Toronto, Ontario
David Garrick, Atlanta, Georgia
J. David Goldin, Newtown, Connecticut
Jeff Healey (1966-2008), Toronto, Ontario
Joseph Lauro, Shelter Island, New York
John Leifert, Staten Island, New York
Peter Mintun, New York, New York
Kurt Nauck, Spring, Texas
Lloyd Rauch, Bronx, New York

VERY SPECIAL THANKS TO:
Paula Rose, Dallas, Texas (Irene's second cousin)

Gisela Hayles, Midland, Texas (Dixie Hayles' daughter-in-law)

Sue Lawley, Springfield, Missouri (Irene Taylor relative)

RoxAnn Raisner, Glen Carbon, Illinois (Irene Taylor's great-niece). RoxAnn solved another mystery by providing Seger Ellis and Irene Taylor's marriage certificate.

Ron Hutchinson of the Vitaphone Project, Piscataway, New Jersey, for providing a copy of Irene Taylor's film short Listening In and for the still from that film.

Joe Lauro (Shelter Island, New York), Allan Dodge (Oakland, California) and Tom Bertino (Marin County, California) for some great photographs.

Mark Cantor, Agoura Hills, California, jazz film expert and archivist, who provided a copy of the script for the Walter Winchell film short.

April Grier, Rutgers Institute of Jazz Studies, Newark, New Jersey

Jim Price, Spokane, Washington, Mildred Bailey biographer

Don Rayno, Cary, North Carolina, Paul Whiteman biographer

And last but not least - special kudos to my fellow "The Case of Irene Taylor" super sleuths Bill Cappello (Mount Vernon, New York) and David Garrick (the "Sentimental Gentleman From Georgia.")


BIBLIOGRAPHY
Billboard. January 2, 1932. "Agnew at Edgewater Beach."

Brazosport Facts, The. (Freeport, Texas), October 24, 1965, p. 14. "RECIPE OF THE WEEK. Her varied career ranges from blues singer to truck driver" by Polly O'Connell. Interview and photo of Dixie Hayles (who claimed she had a singing career with Paul Whiteman billed as Irene Taylor).

Cantor, Mark. E-mail correspondence of March 2011 with David McCain re: Universal film short I Know Everybody and Everybody's Racket.

Dallas Morning News, July 20, 1924, p. 4. "Gardner Orchestra Will Give Program."

Dallas Morning News, August 17, 1928 p. 4. "Dallas Girl to Sing Here in Publix Show."

Dallas Morning News, July 4, 1948, p. 12. "Dining and Dancing" by Fairfax Nisbet.

Dallas Times-Herald, July 4, 1965, p. A23. "Clippings All That's Left of Singer's Lost Career," by Terry Brennan.

Dodge, Allan. Liner notes for CD Seger Ellis: Jazz in a Sentimental Mood. The Old Masters (TOM) MB 131.

Freeport Facts (Freeport, TX), October 19, 1939, p. 1. "Former Freeport Girl Teamed With Husband Seger Ellis In Houston Show Starting Friday." This article gives details on how Irene met Seger Ellis.

Giddins, Gary. Bing Crosby: A Pocketful of Dreams. The Early Years, 1903-1940, p. 456. Little, Brown and Company, 2001.

Gramophone, The. March 1933, p. 28 (United Kingdom publication). Record reviews by Edgar Jackson.

Hayles, Gisela (Mrs. Joe Ervin Hayles), Midland, Tex. Telephone interviews with Bill Cappello, March 18, 2011 and David McCain, April 16, 2011.

Jazz Journal International (United Kingdom), January 1962, pp. 8-10. "Seger Ellis" by John Bryan.

Metronome, The. September 1937, p. 52. "Hollywood's Second Swing Concert," by Dave Hyltone.

Muskogee Times-Democrat, February 19, 1923, p. 3. "High School Girl Will Go On Stage."

NPR (National Public Radio) "Fresh Air" commemorative program on Bobby Short, March 21, 2005. Transcript of an interview of Mr. Short by Terry Gross taped in June 1984.

New York Times, March 24, 1934, p. 9. "New Vaudeville Bills. Irene Taylor Headliner at Palace."

New York Times, July 18, 1934, p. 26. "Bankruptcy Proceedings."

Orchestra World, April 1939, p. 11. "According to Recordings" by Al Payne. Record reviews.

Pittsburgh Press, September 18, 1932, Society Section, p. 9. "Irene Taylor's Father, Jurist. Mid-Western Blues Singer Joins Whiteman Orchestra." Photo.

Raichelson, Dick. Liner notes for CD Dallas Rhythm - Recorded in Dallas and St. Louis, 1924-1929. Jazz Oracle BDW8021.

Rose, Paula. E-mail correspondence (May 2011) and telephone interviews on May 14 and May 28, 2011.

Sarasota Herald-Tribune, October 14, 1932, p. 2. "Irene Taylor Welcomed By 'King of Jazz'."

Southeast Missourian (Cape Girardeau, Mo.), February 10, 1933, p. 3. "Cape Is Called Muddy Old Place."

Variety, August 3, 1938. "Seger Ellis Starts Sax-Less Orchestra."
IRENE TAYLOR DISCOGRAPHY
1925-1940
Dallas, October 1925 with Jack Gardner's Orchestra
1. 9363-A I Did Wanta, But I Don't Wanta Now OKeh 40527
2. 9364-A I Ain't Thinkin' 'Bout You OKeh 40527

New York, February 18, 1928 with Paul Whiteman and His Orchestra
Vocals by Irene Taylor, Rhythm Boys, Jack Fulton, Charles Gaylord, Austin Young
3. 41696-2 Mississippi Mud Victor 25366, HMV EA-2764
4. 41696-3 Mississippi Mud Victor 21274, HMV EA-429

Chicago, June 1, 1928 vocal with Orchestra
5. 42394-1-2-3 My Castle In the Clouds Victor rejected
6. BVE 42395-4 I Must Have That Man Victor rejected

New York, November 17, 1932 with Paul Whiteman and His Orchestra
7. 73968-1 Willow Weep For Me Victor 24187
8. 73969-1 So At Last It's Come To This Victor 24187
9. 73970-1 In the Dim, Dim Dawning Victor 24189
10. 74612-1 Willow, Weep for Me - v Irene Taylor/Take Me In Your Arms - v Jack Fulton/In the Dim, Dim Dawning - v Irene Taylor Victor L-16017 (33 1/3 Program Transcription)

New York, December 2, 1932
11. 36199 A Night With Paul Whiteman at the Biltmore Victor 39000 picture record.
Part I: Whispering (Orchestra); Japanese Sandman (Orchestra); Some of These Days (Ramona and Roy Bargy); Ida (Red Mackenzie); Dinah (Peggy Healy); When Day Is Done (Goldie and Orchestra [Harry Goldfield]).
Part II: St. Louis Blues (Irene Taylor); Sweet Sue (Jack Fulton); Mississippi Mud (Rhythm Boys); I Can't Give You Anything But Love (Jane Vance and Al Dary); Wabash Blues (Mike Pingatore); Three O'Clock in the Morning (Orchestra)

New York, July 12, 1933
12. 13534 Shadows on the Swanee Vocalion 25003
13. 13535 Don't Blame Me Vocalion 25003

New York, November 16, 1933
14. 14340 Give Me Liberty Or Give Me Love Vocalion 2596
15. 14341 Everything I Have Is Yours Vocalion 2597
16. 14342 That Dallas Man Vocalion 2596
17. 14343 No More Love Vocalion 2597

New York, November 2, 1938 with Seger Ellis and His "Choir of Brass"
18. B-23653 What Do You Know About Love? Brunswick 8261
19. B-23655 The Pied Piper of Hamlin Brunswick 8275

New York, December 9, 1938 with Seger Ellis and His "Choir of Brass"
20. B-23825-2 Your Eyes Are Bigger than Your Heart Brunswick 8290
21. B-23826 Like A Ghost from the Blue Brunswick 8302

New York, February 6, 1939 with Seger Ellis and His "Choir of Brass"
22. B-24079 We Speak Of You Often Brunswick 8321
23. B-24080-1 Some Rainy Day Brunswick 8325

New York, April 4, 1939 with Seger Ellis and His "Choir of Brass"
24. WB-24326-B Me and My Candid Camera Brunswick 8362
25. WB-24328-A I'm A Lucky Devil Brunswick 8362

New York, January 19, 1940 with Seger Ellis and His Orchestra
26. 26440-A When It's Sleepy Time Down South Vocalion/OKeh 5966

New York, January 26, 1940 with Seger Ellis and His Orchestra
27. CO-25885-1 Too Lazy For Love Vocalion 5534
28. CO-25887-1 Cuddle Up A Little Closer OKeh 5721

Hollywood, 1940. Seger Ellis and His Orchestra. Short-lived AMMOR label. These records were made for juke-box use.
29. AM610 With Wind and Rain In Your Hair Ammor 118A
30. AM612 Chop Chop Charlie Chan Ammor 119A

With Charlie Agnew and His Orchestra (tracks from Armand's Face Cream Show, 1934. Extracted from CD Charlie Agnew and His Orchestra - Slow But Sure (Sounds of Yesteryear, U.K., DSOY676, © 2007)
You Oughta Be in Pictures (sharing vocal with Stan Jacobson?) song written in 1934
Get Going
This Little Piggy Went To Market
Frosted Chocolate
I Didn't Want To Love You
Paper Moon
I Love Music
Standard Program Library Transcriptions, Hollywood, c. 1940
35566. Seger Ellis' Orchestra. Program #A 1115-1118. There's A Lull In My Life (vocal-Irene Taylor); My Last Affair (vocal-Irene Taylor); 'Cause My Baby Says It's So (vocal-Seger Ellis); September In the Rain (vocal-Seger Ellis)

35567. Seger Ellis' Orchestra. Program #A 1119-1122. Shall We Dance (vocal-Seger Ellis); Never In A Million Years (vocal-Seger Ellis); Boo Hoo (vocal-Irene Taylor); It's Swell of You (vocal-Seger Ellis)

Z112. Seger Ellis' Orchestra. I've Got Rhythm (vocal-Irene Taylor); Walkin' the Dog; Blues In My Heart (vocal-Irene Taylor); How Deep Is the Ocean (vocal-Seger Ellis)

Z115. Seger Ellis' Orchestra. I Never Knew (vocal-Seger Ellis); Sleepy Time Down South (vocal-Irene Taylor); Casey Jones; Clarinet Marmalade.

Z116. Seger Ellis' Orchestra. Dancing In the Dark (vocal-Seger Ellis); You're Driving Me Crazy (vocal-Seger Ellis); Little White Lies (vocal-Seger Ellis); Shine On Harvest Moon (vocal-Irene Taylor and Seger Ellis)
IRENE TAYLOR IN THE NEWS
This is a compilation of various news cites from from Google's archivesearch, newspaperarchive.com, the Dallas Morning News historical archive, and ProQuest (Chicago Tribune and Los Angeles Times) which give added background to Irene's career.

November 3, 1921. Muskogee Times-Democrat. All Stars in Musical Show. Community Service Comedy Voted By Large Audience A Huge Success. With many earmarks of a Broadway production, the Community Service musical comedy, "The Jollies of 1921" was acclaimed by the large audience at the Orpheum last night as a huge success... Miss Irene Taylor's "I've Got A Gal" and Bill Chappell's "I Wonder Where My Sweet Baby's Gone" (à la Al Jolson) probably received the loudest applause of any musical numbers in the minstrel scene...

January 19, 1922. Muskogee Times-Democrat, p. 5. "Kid" Party Given. A novelty "Kid" party was given Tuesday evening at the home of Miss Mabel Sharum, 400 1-2 Jefferson. Mother Goose rhymes and other nursery effects were used in the decorations. The guests were dressed in costumes to represent such characters as "Maggie and Jiggs," "Mary Jane and Buster Brown," "Punch and Judy," "Jack and Jill" and others. The evening was spent in dancing and games. In a contest, Irene Taylor won first prize and Mary D. Hans received the consolation favor.

November 2, 1922. Muskogee Times-Democrat. Noonday Scores Good Onstage. "Black and White Minstrel" Keeps Full House in Continuous Uproar. Departing from the usual, the performance of the "Black and White Minstrel" last night at the Orpheum staged and participated in by the members of the Women's Noonday Luncheon club had much of the unusual and original in its witty quips, setting and general rendition... . Mrs. Louis Brown's acting as interlocutress in the first part of the show, savored of the professional, as did that of Miss Irene Taylor, Muskogee's famous jazz blues singer, who sang "Flappers' Blues." Miss Buena Vista White's voice was unusually sweet and sympathetic singing "Annie Laurie."

March 22, 1923. Muskogee County Democrat, p. 3. Exposition to Open Thursday. The doors of the auto and better homes exposition will open at the Liberal Arts building at the Oklahoma Free State Fair grounds Thursday afternoon at 2 o'clock. The show will last four days. Miss Irene Taylor, local blues singer, will feature in the entertainment on Thursday and Saturday nights and on Friday and Sunday evenings special programs have been arranged with professional vaudeville acts in the auditorium.

July 20, 1924. Dallas Morning News, p. 4. Radio Program Station WFAA. 9:45 - 11:00. Jack Gardner and his seven-piece orchestra, official orchestra at Stoneleigh Court and popular in the Southwestern states, with seldom an idle night except Sunday; Miss Irene Taylor, singer, will be featured.

February 25, 1926. McIntosh County Democrat (Checotah, Okla.), p. 1. A REAL TREAT. O. G. & E. entertainers of Muskogee Render Splendid Program. Despite the inclemency of the weather last Thursday night a large crowd gathered at the high school auditorium and accorded the Oklahoma Gas & Electric Company's entertainers of Muskogee a rousing reception... Song -- "I'm A Good Gal" - Miss Irene Taylor.

March 4, 1926. McIntosh County Democrat (Checotah, Okla.) Lions Club Enjoys Fine Program. Miss Irene Taylor of Muskogee next favored the club with two vocal numbers which brought forth hearty applause.

August 11, 1926. Galveston Daily News. Hollywood Dinner Club advertisement. "Irene Taylor, A Really Different Singer of Blues."

November 4, 1926. Chicago Tribune, p. 26. Oriental Theater ad. Paul Ash and His Merry Mad Gang in "Black Bottom Review." Featuring the new Heebie-Jeebies Dance. Irene Taylor-MILTON WATSON-Felicia Sotel-Bert Tucker-HENRI A. KEATES-Sonia Gluck Dancing Girls.

January 21, 1927. Southtown Economist (Chicago) p. 11. Ad for Capitol Theater (Halsted at 79th St.) Del and His Capitol Merrymakers. Also The Lovey Girls - 2nd Big Week. Irene Taylor, Joey Rose and Others.

March 8, 1927. Chicago Tribune, p. 6. Oriental Theater ad. Paul Ash's Merry Gang in "Good Ship Jazz." Yo-Ho. A Cargo of Red-Hot Jazz Maniacs Breezin' Along for a Syncopatin' Revel! With Eddie Hill, Stanley & Lee, Lang & Voelk, Roy Smeck, Clark Morelle, Irene Taylor, and Al Kvale (You Know Al) Leading Paul's Merry Gang on a Jazz Mad Cruise.

April 19, 1927. Southtown Economist (Chicago) p. 6. Jazz melodies, syncopated tunes and torrid saxophone solos will intermingle with semi-classical songs tomorrow evening between 7 and 8 o'clock when the complete stage shows, comprising two huge productions of the Tivoli theater, go on the air from WBCN... . Others on the huge air program will be Bob LaSalle in comic songs and stories; Irene Taylor, blues singer; Billy Myers, singing sentimental ballads; Chamberlain and Hines, in their funny songs, and the many other stars who are in Bennie (Kreuger's) show "Play Ball."

October 2, 1927. San Antonio Express. Texas theater. The Publix stage show. "Montmartre" which features seven acts and many entertainers is one of Parisian life, gaiety and joy. It featured Jack Born and Gene Lawrence in "Komedy Kapers," Don Carroll, "Popular Juvenile," Irene Taylor, "The Southern Darling," Ann and Jean, "Sweethearts of Danceland," Billy Randell. "Dancing Violinist," six girls from Montmartre, "Beautiful Dancing Models," and Al Morey conducting the Merry Mad Musical Gang in several popular tunes.

October 23, 1927. Atlanta Constitution. Everyone will like Irene Taylor billed as "The Southern Darling" is a singer who is sure to please.

October 25, 1927. Atlanta Constitution. A rattling good list of entertainers is seen with the band unit features being Irene Taylor, real deep blues singer and two teams Born and Lawrence and the...

July 17, 1928. Los Angeles Times, p. A11. The usual vaudeville on the "Met" stage is headed by Irene Taylor, "blues" singer; Adler, Weil and Herman, "California Song Bird," two tap dancers and others. The organist plays "Ramona" to the same set of slides exhibited at the Boulevard recently. And the piece hasn't changed any.

September 2, 1928. San Antonio Express, p. 14-D. Publix show "Pagoda Land" at Texas theater with Bobby "Uke" Henshaw, Irene Taylor, Smith & Hadley, Chester Hale Girls.

October 28, 1928. Boston Globe. Birthday Blues the revue was staged by Boris Petroff and the entertainers include Bobbie Uke Henshaw, Irene Taylor blues singer...

January 26, 1929. Chicago Tribune, p. 15. Tivoli Theater ad. Cottage Grove and 63rd St. Frankie Masters and "The Blue Revue" with BOB LA SALLE - a sure cure for the blues. IRENE TAYLOR - With those St. Louis Blues. GAMBY-HALE BALLET - from the beautiful Blue Danube. Frank Stever, Pelle & Cola, Small Brothers, Many Others.

February 23, 1929. Los Angeles Times, p. A9. Review of show at the Paramount. Henry Busse on the stage is the ceremonial chef for a production designated as The Blue Revue. The best items are the "Blue Danube Blues," Eddie Magill's singing and Pelle and Cola in some acrobatic posings. Irene Taylor, a blues singer, and Busse do a number that pleases. There have been better acts--and worse.

April 19, 1929. Dallas Morning News, p. 10. Jimmy Ellard, master of ceremonies and director of the Greater Palace stage band, will introduce the entertainers who will present the "Blue Revue." Irene Taylor, former Dallas girl, and now a successful Broadway star, will head the list of performers. Miss Taylor has appeared with Vincent Lopez and her latest Victor record is made with Paul Whiteman. Her specialty is blues numbers, among them the famous "St. Louis Blues."

April 22, 1929. Dallas Morning News, p. 11. Jimmy Ellard and the Palace Radiots. Jimmy Ellard, master of ceremonies at the Greater Palace, will present his Greater Palace Radiots on Monday midnight broadcast hour over WFAA. The entertainers from the "Blue Revue" state production this week at the Greater Palace will appear on the informal program. Bob LaSalle, well-known comedian, will offer a new routine of songs and jokes. Irene Taylor, late of Broadway musical comedy and who recently made records with Vincent Lopez and Paul Whiteman and his orchestra, will sing the prima donna roles from numerous musical shows in which she has appeared. Miss Taylor is a former Dallas girl.

April 28, 1929. San Antonio Express, p. 16D. "She Knows Her Blue Notes" photo with long caption.

January 10, 1930. Chicago Tribune, p. 16. Chicago Theater ad. Wow What a Stage Show! "PAINTED MELODIES." Bert Gordon - Comic! Irene Taylor - Melodic!

March 9, 1930. San Antonio Light, Sec. 3 p. 10. "On the same program with "Slightly Scarlet" the Texas presents the New York Publix Stage Show "Painted Melodies," a production that is a rhapsody of color and tune, featuring Harry Savoy, comedian; Irene Taylor, the little girl with the big blue voice; Birdie Dean, clever acrobatic dancer; Erwin Lewis, tenor; and the Dorthea Berke girls."

October 31, 1930. Los Angeles Times, p. A7. Halloween Café News. At George Olsen's. A gala Halloween program will be given at George Olsen's new club, Culver City, tonight with a brilliant array of famous film stars, directors, composers and other "who's who" of Hollywood in attendance. Olsen's new fall revue, most elaborate of the series, will be presented from 8:00 p.m. until 2:30 a.m. and there will be no cover change until 10 p.m. A special menu of Halloween delicacies will be featured. Prominent in the current show, put on by the Mosconi brothers, are George Olsen and his orchestra, George Clifford and Nadine Wayne, ballroom dancers from the Club Deauville, New York; Jack Shutta, popular comedian; Irene Taylor, crooning songstress; Maria Nasha, oriental dancer; Angelo Bruno, tenor, and a glorious ensemble of beautiful show girls.

June 8, 1931. Portsmouth (Ohio) Times, p. 10. Radio News and Programs. NBC INAUGURATES SNAPPY RADIO PROGRAM MONDAY. A 15 minute program consisting of snappy melodies by a group of entertainers comprising a blues singer a male duo and an orchestra under the direction of Harry Kogen will be presented to the radio audience Monday night at 8:45 over the NBC WEAF chain. Irene Taylor will fill the role of blues singer while Edwin Kemp and Arch Bailey will comprise the duo.

June 22, 1931. Dallas Morning News, p. 5. 9:45 P.M. - Simoniz Program. Irene Taylor, contralto; Arch Bailey, baritone; and Edwin Kemp, tenor will be guest artists for the Simoniz program on the NBC network. Among the number will be, "If You Can't Sing, Whistle," "I Know That You Know," "Guess Who's In Town," and "Boy! Oh Boy! I've Got It Bad." (WEAF, WGY, WTAM, WDAF).

September 10, 1931. Portsmouth (Ohio) Times, p. 1. VIE FOR RADIO TITLE. Beauties of Air Seek to Be Queen of Ether. (Photo and caption). When the radio queen of 1931 is selected these two beauties of the air will come in for consideration. Irene Taylor (left) is a candidate from WENR, Chicago, and Edna O'Keefe (inset) is a nominee from KFRC, San Francisco. With short story.

January 2, 1932. Washington Reporter. Photo with caption. RADIO STAR. It's leap year, men, and Irene Taylor, all dressed up as a Northwest Mounted policeman, is out to get her man this year! Irene is a deep down "blues" singer, heard on many programs originating in Chicago.

February 4, 1932. The Portsmouth (Ohio) Times. Texas Smile. (Photo). Listeners over the NBC network are familiar with the voice belonging to the owner of the smile pictured here - Irene Taylor, who is heard three nights a week singing from the Edgewater Beach Hotel, Chicago.

April 8, 1932. Chicago Tribune, p. 23. Oriental Theater ad. "REFLECTIONS" featuring the Radio Blues Star IRENE TAYLOR favorite of Charlie Agnew's K-Y-W broadcasts singing tantalizing tunes.

April 10, 1932. Chicago Tribune, p. G8. Column by Larry Wolters. They call Irene Taylor a blues singer, but you should hear her do "Lovable".... She's at the Oriental this week.

July 3, 1932. Milwaukee Journal. Host of Stars Scheduled on Radio Sunday. "Mighty Lak a Rose" will be sung by Irene Taylor, contralto, during the program with an orchestra under the direction of Charlie Agnew over WTMJ Sunday at 12:30 pm.

July 25, 1932. Pittsburgh Press. Were You Listening? -- Last Night. Irene Taylor "went to town" with a peppy new song from her own pen - "I Have A New Sweetheart."

August 7, 1932. Dallas Morning News, p. 6. Irene Taylor, contralto, will be featured with Dusty Rhodes of Charlie Agnew's Yeast Foamers at 12:30 p.m. over NBC network. They will broadcast their version of "Banking on the Weather," in duet, during the program offered by the Yeast Foamers. These programs will be transmitted by Station WFAA, The Dallas News and the Dallas Journal in the Baker Hotel.

August 28, 1932. Dallas Morning News, p. 7. 12:30 P.M. - Irene Taylor. The Yeast Foamers program will have Irene Taylor singing "My Man," and Charlie Agnew and his singing instrumentalists , offering a program of dance music on an NBC network. Dusty Rhoads will be heard singing "Sentimental Gentleman From Georgia," and Stan Jacobsen will offer "Another Night Alone" with the ensemble joining in for "Of Thee I Sing." (WFAA)

September 1, 1932. Youngstown Daily Vindicator, p. 9. Irene Taylor is to replace Mildred Bailey as soloist with Paul Whiteman's band.

September 2, 1932. Milwaukee Journal. Paul Whiteman broadcasts another concert over WTMJ at 8 p.m. Friday. Next week he will present Irene Taylor in Mildred Bailey's place, vacated when Mildred and Paul just couldn't get along...

September 18, 1932. Pittsburgh Press. "Irene Taylor's Father, Jurist." Society Section, page 9. With photo.

October 2, 1932. Pittsburgh Press. Radio Mail Box (answers to reader questions). Milt H - Irene Taylor is now with Paul Whiteman's Orchestra at the Biltmore Hotel, New York City. You may hear her on most of his broadcasts.

October 26, 1932. Pittsburgh Post-Gazette, p 11. Notes of the Stage and Screen. Irene Taylor, now a radio sensation, was doing night club work only a couple of short years ago and during the summer of 1930 was featured at one time at Eddie Klein's Villa...

November 17, 1932. Pittsburgh Press, p. 23. Were You Listening? - Last Night. Irene Taylor is good enough without trying to imitate Mildred Bailey. Can't be done, Irene; quit being foolish.

March 10, 1933. Berkeley Daily Gazette, p. 10. "Hello Everybody Opens Here Today." Added features on this all radio program include Jack Pearl, "the Baron Munchausen" in "The Meal Ticket," and "I Know Everybody's Racket" which features Paul Whiteman and His Band, Ruth Etting, Arthur Tracy "the Street Singer," Irene Castle, Jack Fulton, Irene Taylor, and Art Jarrett. The Mills Brothers in "Dinah" and a new edition of the Metrotone News completes the program.

January 1, 1933. New York Times. Ball On Tuesday to Include a Gala Program of Entertainment....Jane Vance, Irene Taylor and the Rhythm Boys. The program of divertissements be continued later with the appearance of Andre Kosletanetz's orchestra and...

December 10, 1933. The Calgary Daily Herald. Kilo-Cycling with the Radio Editor. Irene Taylor, formerly with Paul Whiteman's Orchestra, will sing with Glen Gray and his Casa Loma Orchestra. Glen is a Canadian...

January 30, 1934. Pittsburgh Post-Gazette. Radio schedule. 10:00 PM. WJAS. Glen Gray's Orchestra with Irene Taylor, blues singer, and Do-Re-Mi trio.

February 13, 1934. Pittsburgh Press, p. 14. Irene Taylor has a record. She's been heard on the networks with 21 different orchestras.

March 14, 1934. Milwaukee Journal. Irene Taylor and Arthur Tracy, now off the air, are playing vaudeville.

May 13, 1934. Chicago Tribune, p. W6. Larry Wolters column. Irene Taylor to Return. Irene Taylor, the Texas songstress, will return to an NBC sustaining series this month. It is a coincidence that she will go on the air right after Paul Whiteman's commercial on Thursday evening. It was Paul who brought her into the radio limelight.

April 6, 1934. Milwaukee Journal. Although Irene Taylor has played lots of vaudeville and presentation theaters, her current tour is the first time she has worked as a single with a pianist and not in front of a band.

April 16, 1934. Toledo News-Bee. Radio column by "Kilo Syckle" Irene Taylor and Do-Re-Mi are expensive entertainers. They cost $300 a minute.

April 30, 1934. Milwaukee Journal, p. 13. Irene Returns Steer. When Texas friends gave Irene Taylor a long horned bull she returned it with the comment: "They gave me a bum steer!"

July 20, 1934. Toledo News-Bee, p. 17. Irene Taylor will return to the air under the auspices of a beverage concern in September.

August 12, 1934. Dallas Morning News, p. 11. Talent Added to Hollywood Club Program. Galveston, Texas, Aug. 11. Irene Taylor, Texas girl who appeared with Paul Whiteman, Vincent Lopez, George Olsen and Glen Gray, will featured on the floor show with the dance team of Easter and Hazelton, who were under the late Florenz Ziegfeld and have appeared in the Greenwich Village Follies and Sid Grauman's Chinese Theater in Hollywood.

August 14, 1934. Chicago Tribune, p. 14. News of the Radio Stations by Larry Wolters. Irene Taylor, formerly heard on local airlanes with Charlie Agnew's Orchestra, has joined Ben Bernie's troupe in Galveston.

September 23, 1934. San Antonio Express, p. D11. Inside the Studios by Peter Dixon. Though Irene Taylor today sings as well as she did when she was with Whiteman, little is heard of her.

October 2, 1934. Chicago Tribune, p. 14. Today's Broadcasts from Chicago Stations. 8 p.m. "The Mardi Gras" with the W-G-N orchestra, Irene Taylor, Lawrence Salerno, and the Four Knaves.

November 19, 1934. Pittsburgh Post-Gazette. Listen for These: Irene Taylor with Ben Bernie tomorrow night.

December 21, 1934. Milwaukee Sentinel, p. 21. Gossip of the Air. Bing Crosby and Irene Taylor will renew an old friendship Tuesday night. Irene was a singer with Paul Whiteman's Orchestra when Bing was one of the Rhythm Boys. Now she'll be guest on his program (Woodbury Soap).

January 5, 1935. Pittsburgh Press. Irene Taylor, the only feminine owner of a dude ranch in Texas receives a fine income from her 800 acres outside Fort Worth. And she's lassoing some radio shekels, too.

July 15, 1935. Los Angeles Times, p. A10. Column by Carroll Nye. A new half-hour variety show dedicated to progress of Los Angeles' major industries and titled "Forward March" makes its debut on KFWB at 8:30 p.m. today with Irene Taylor, former stellar songstress with the Paul Whiteman and Casa Loma Orchestras, in the featured spot.

December 6, 1935. Los Angeles Times, p. A12. News of the Cafes. CENTURY CLUB OLIO. Irene Taylor, former star with Paul Whiteman's Orchestra, has been added to the list of entertainers for the Century Club.

February 4, 1936. Milwaukee Sentinel, p. 19. Camera Clippings. While Bobbie Taylor has fallen so hard for Eleanore Whitney, the Paramount tap dancer... P.S. He still goes calling on Irene Taylor and Janet Gaynor.

February 28, 1936. Los Angeles Times, p. 13. Around and About in Hollywood by Read Kendall. Harry Barris, Seger Ellis, Irene Taylor, Joy Hodges and Johnny Mercer will be on hand to appear with Al Jarvis and His Movieland Band tonight at the Royal Palms Hotel...

March 28, 1936. Los Angeles Times, p. 6. Column by Carroll Nye. Chateau Guests. Al Jolson's final appearance as host at "Chateau" is to be marked by his presentation of Pat O'Brien, comedy by hesitant Sterling Holloway, and songs by Irene Taylor.

August 8, 1936. Los Angeles Times, p. 7. Around and About in Hollywood by Read Kendall. Mack Gordon, Eddy Duchin and Frank Parker loud with their applause for Irene Taylor at the Casanova...

September 3, 1936. Los Angeles Times, p. 13. Around and About in Hollywood by Read Kendall. Strange sight: James Dunn, who had been escorting Patsy Lee somewhat steadily, sitting alone at the Casanova and loudly applauding Irene Taylor, the singer. At another table was Patsy with Pinky Tomlin...

September 17, 1936. Los Angeles Times, p. A16. Around and About in Hollywood by Read Kendall. Irene Taylor former singer with Paul Whiteman, is being tested for some color films.

October 2, 1936. Los Angeles Times, p. 17. Around and About in Hollywood by Read Kendall. Irene Taylor singing star at the Casanova who recently escaped drowning at Santa Monica, was rescued from a cistern from the yard of her home in Muskogee, Okla., at the age of 7...

October 27, 1936. Los Angeles Times, p. 11. Around and About in Hollywood by Read Kendall. Irene Taylor the singer becomes an aunt. Her sister, Mrs. Orfa Waring, welcomed a son.

November 1, 1936. Los Angeles Times, p. C6. Odd and Interesting by Read Kendall. Irene Taylor, symphonic swing singer, purchases the entire musical library of the late Nora Bayes...

November 20, 1936. Los Angeles Times, p. 17. Around and About in Hollywood by Read Kendall. Irene Taylor scoring a decided hit on a return engagement at the Casanova.

November 30, 1936. Los Angeles Times, p. A14. Paramount Lists New Attractions. In conjunction with the presentation Thursday of "Go West, Young Man," Fanchon and Marco will offer a stage show featuring Eddie Rio, star of Earl Carroll's Vanities, Jerry Coe, accordionist, Irene Taylor, singer and the Fanchonettes

March 11, 1937. Los Angeles Times, p. 17. Around and About in Hollywood by Read Kendall. Irene Taylor songstress begins her ninth engagement tonight at the Casanova.

March 20, 1938. Chicago Tribune. The headliners at the Hi- Hat Club are Nan Blakstone in original songs, Irene Taylor, radio singer and Willie Shore, comedian, dancer and master of ceremonies.

September 5, 1938. Dallas Morning News, p. 6. Dining and Dancing by Victor Davis. Across the street space also played out as one of the largest Saturday night crowds of the season whooped it up to the punchy music of Seger Ellis' band. The Century Room maestro's new idea in dance music evidently is catching on. Count among the high spots at this place the fine warbling of Irene Taylor, a crowd pleaser of the first order.

September 11, 1938. Dallas Morning News, Section Two, p. 1. Dining and Dancing by Victor Davis. Do It Right. Clever arrangements and the swell vocalizing of Irene Taylor are standout features of Seger Ellis' Century Room Orchestra. The latter, by the way, went to a lot of trouble to present his version of "Small Fry," hit tune of Bing Crosby's new film, "Sing You Sinners." Ellis obtained the film sound track and he and Irene do an exact duplicate of the song on the bandstand with the orchestra handling the background.

July 9, 1939. Chicago Tribune, p. SW4. Irene Taylor Singing With Seegar Ellis Band. Seger Ellis and his orchestra, currently featured at the Trianon ballroom, is heard nightly over W-G-N and the coast to coast Mutual network. Irene Taylor, comely dark-haired miss who formerly was featured with Charlie Agnew's orchestra, Paul Whiteman, and the Casa Loma orchestra, is the Ellis soloist.

July 5, 1940. Cayuga Chief (Weedsport, NY) p. 3. Ellis' Orchestra to Return Monday to Owasco Resort. Photo of Irene Taylor SINGS WITH BAND. IRENE TAYLOR, charming vocalist, who appears with Seger Ellis and his dance band, opening a return engagement at Enna Jettick Park Monday.

October 17, 1940. National Road Traveler. Indiana Roof (Indianapolis). . . .its next attraction... will be Seger Ellis and Irene Taylor, both nationally famous radio personalities and their dance orchestras. Radio fans in this territory will remember Seger Ellis' numerous broadcasts from station WLW and will recall that Irene Taylor was featured for several years with Paul Whiteman and His Orchestra. Both have introduced many famous song hits which will be included on his program at the Indiana Roof.

January 16, 1941. National Road Traveler. Indiana Roof (Indianapolis). Seger Ellis and Irene Taylor and Their Choir of Brass will featured at The Roof this coming Saturday and Sunday. It will be a return engagement for the famous singing pair who were heard here early this season.

June 14, 1941. Youngstown Vindicator. Ad for Idora Park with small photos of Seger Ellis and Irene Taylor. SEGER ELLIS and His Radio and Recording Orchestra featuring IRENE TAYLOR Lovely Star of Stage and Radio. Sunday matinee dance 3 to 5 pm.

December 23, 1945. Dallas Morning News, p. 6. Dining and Dancing by Fairfax Nisbet. Bob Harris and band with Irene Taylor, the inimitable blues singer, are on hand at the Hi Hat Club.

June 27, 1952. Dallas Morning News, pp. 1 & 2. Flashback to WFAA's First Piping by Ken Hand. (30th anniversary of WFAA). At 6 p.m. Friday he (Joe Reichman) will present Irene Taylor, famous blues singer and star of vaudeville and contemporary of Morton Downey, Gene Austin, Ruth Etting and Nick Lucas. She is now in retirement in Dallas.

September 16, 1958. Dallas Morning News, p. 9. Dallas After Dark by Tony Zoppi. Myles Bennett called to remind us that Dallas was represented on the Paul Whiteman band years ago. His female vocalist was Irene Taylor who settled here after a 4-year stint with Whiteman... Her recordings of "Mississippi Mud" sold nearly a million copies...
About The Author
David W. McCain left his native New Orleans in 1990 to move to New York City, where he lived for 9 years. He has enjoyed researching female vocalists who he feels have "that special something" for many years, and Irene Taylor is the latest addition to that list. He has extensively researched New Orleans' own Boswell Sisters (he knew the late Vet Boswell very well), and he created something of a stir in the jazz and swing collecting world in 1991 by locating another legendary Louisiana songbird, (Miss) Teddy Grace, a much-admired blues singer who seemed to have disappeared without a trace. His extensive interview with Teddy Grace was published in Joslin's Jazz Journal (August 1991) along with photographs from Teddy's personal collection. He penned the liner notes for two Teddy Grace CDs (on the Timeless and Hep labels) as well as extensive notes for a Boswell Sisters 5-CD set published by Nostalgia Arts. The Southern literary magazine Oxford American profiled his search for Teddy Grace in its 2007 annual music issue.

He has donated his Teddy Grace and Irene Taylor research to the Rutgers Institute of Jazz Studies in Newark, New Jersey; and his Boswell Sisters collection--30 years of research--is in the process of being donated to the Historic New Orleans Collection.

He currently resides in northwestern New Jersey in the town of Washington, near the scenic Delaware Water Gap--quite a distance from that "Mississippi Mud." But he manages to get to Louisiana at least once a year to visit family and partake of his mother Eddie Faye's legendary seafood gumbo. He says no restaurant's gumbo is better than Mama's.