Home
Convention City
Peggy English
Jane Green
Grey Gull Project
Marion Harris
Scrappy Lambert
Keller Sisters & Lynch
Ray Mayer & Edith Evans
Misc 1920's
New 1920's
1920's Sheet Music
1930's Vocalists
NJ Record Bash
Bee Palmer
Finding Bee Palmer
Pathé Rooster
Jack Pettis
Paul Specht AHO
Frances Sper
Aileen Stanley
Irene Taylor
Esther Walker
Margaret Young
Annette Hanshaw
Biography
Recordings
Sheet Music
Photos
Maxwell House Ads
Links
Brox Sisters
Photos
Recordings
Sheet Music
Movies
Bobbe Brox Obit
Cliff Edwards
Biography
Recordings
Movies
Books
Instruments
Sheet Music
Photos
Miscellaneous
Links
Ruth Etting
Recordings
Sheet Music
Movies
Photos
Jazz Age Links
Banjos
Dixieland Jazz
Search This Site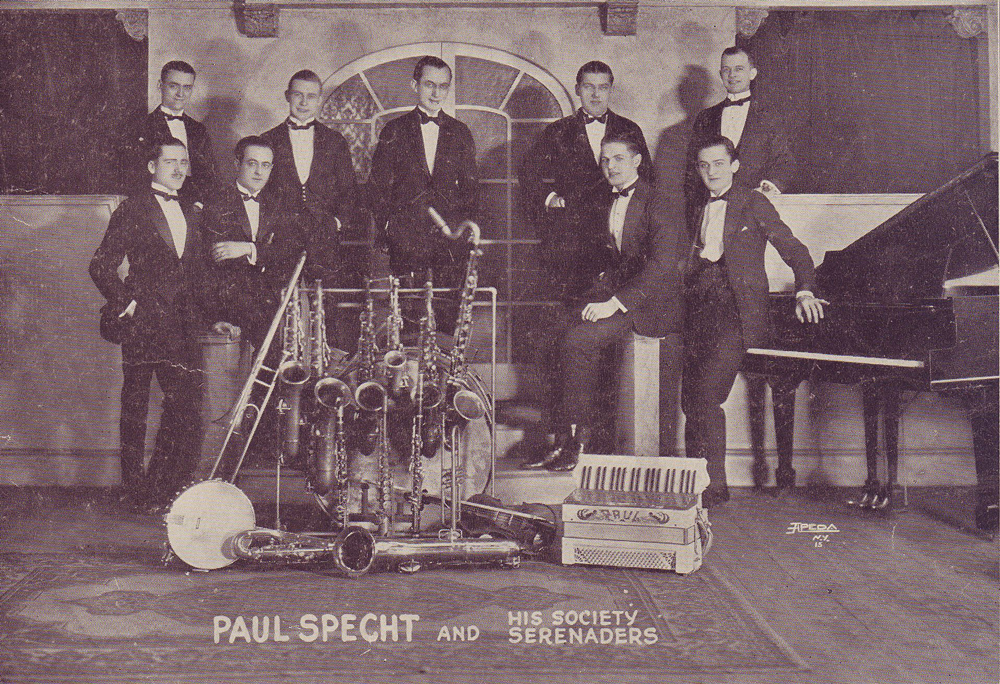 Paul Specht and His Society Serenaders (1922)
Personnel (1923) left-to-right:
Harold Saliers-cl-bcl-as, Chauncey Morehouse-d, Frank Guarente-t, Donald Lindley-t,
Paul Specht-vn-director,
Russell Deppe-bj, Johnny O'Donnell-cl-as, Arthur Schutt-p, Archie Jones-tb
Paul L. Specht was born on March 24, 1895 in Sinking Spring, Pennsylvania. A violinist and orchestra leader, was leading various sized groups before the age of 18. He claimed to have had over 36 orchestras associated with him. His first group that gained recognition was known as Specht's Society Serenaders and their first breakthrough was at the Club Alamac, Atlantic City, New Jersey. This important booking gave Specht an opportunity to view his main competitor, Paul Whiteman's band, each afternoon, which was also appearing in Atlantic City, and it was here he met the owner of the Hotel Addison in Detroit who liked Specht's group so much that he made arrangements for the band to add more members and play his establishment as soon as their Atlantic City contract expired.

In 1923, Specht opened the Consolidated Orchestra Booking Exchange with an office at 1587 Broadway in New York City. Two years later his firm moved to 1775 Broadway (the General Motors Building). Specht also owned Independent Bookings (New England), Amusement Service Corp. (Chicago), Orchestra Corp. America (New York), International Orchestra Corp. (Canada), and Majestic Radio Auspices (New England).
He played in England, France, Belgium, Switzerland, Germany, Canada, Australia, and China. He made four European trips - 1923, 1924 (with Hal Kemp's original Carolina Club Orchestra), 1926 and 1928(?).

The Georgians were first known as Specht's Society Serenaders and in 1919 they recorded for Columbia, but the sides were unissued and Specht had hundreds of copies of the record privately pressed (as "Society Serenaders") and sold them at clubs where the group was appearing. In 1923, Plaza Music Company gave the Specht band their first commercial recording recognition for the Regal label: "You Can't Have 'Em, I Don't Want 'Em Blues" and "Hot Lips" by Specht's Society Syncopators. This is the same group that later recorded as the Georgians for Columbia. "Chicago" was arranged by Russ Morgan and Arthur Schutt, and "Sister Kate" was arranged by Frank Guarante and Arthur Schutt.

During his musical career he sponsored Hal Kemp, Russ Morgan, Ted Weems, Joe Venuti, Jack Denny, Arthur Schutt, Johnny Morris, Artie Shaw, Lou Breese (Louis Calabrese), Bob Chester, Frank Guarante, Charlie Spivak, Peter Van Steden, Roy Smeck, Chauncey Morehouse, Sleepy Hall, Leo McConnell, Sam Herman, Hughie Barrett, Harl Smith, Peter Dale Winbrow, and Harold J. Oxley.
Specht's music was dubbed "Rhythmic Symphonic Syncopation." He claimed to have organized, coached and sponsored: The Georgians, The Romancers, Sleepy Hall Collegians, Jan Garber Orchestra, the Wolverines directed by Vic Burton (May 1924), Willie Creager, the Criterions, the Frisco Syncopators, the Capitolians with Tommy and Jimmy Dorsey (1927), Ted Weems Orchestra, Ernie Golden Orchestra, Al Epstein Orchestra, Joe Samuels Orchestra, Lido Venice Orchestra directed by Harl Smith, Carolina Club Orchestra, Harold Oxley Orchestra, Georgia Melodians Orchestra, the Tuxedo Orchestra, London Melodians Orchestra, Hughie Barrett Orchestra, the Trocoraggers Orchestra, Canadian Club Orchestra, Consolidated Club Orchestra, Bob Bennett's Frisco Orchestra, the Society Syncopators, Jack Denny Metropolitan Orchestra, the Broadway Entertainers Orchestra, Leo Erdody Entertainers Orchestra, the Seven Lady Syncopators Orchestra, the Music Masters Orchestra, the Chicago Five Orchestra, the Dixie Strutters Orchestra, Hawaiian Troubadours Orchestra, the Great White Fleet Orchestra, the Charleston Club Orchestra, Paul Specht's Collegians, and the Al Payne Orchestra.

Specht stated that his band recorded as the Carolina Club Orchestra for Pathé, Harmony and Velvetone [sic]. His band, he claimed, also recorded under several titles (names) for Brunswick (!), Grey Gull, Gennett, Regal and other various companies. In other words, everyone except Victor. Which begs the question: why not Victor?
As far as broadcast history, he performed on the radio for dozens of early programs, including the Majestic Theatre of the Air, the Sundial Serenaders Program, RKO Hour, the Tuneful Tailors, and Sparton Jubileers.

Specht's band played at the Hotel Alamac, the Hotel Addison, the Hotel Governor Clinton, Astor Hotel, Lido Venice, Moulin Rouge, Jardin Royale, the Strand Roof, Twin Oaks, Post Lodge Inn, Club Gallant, and the Clover Garden, to name a few. Obviously he took the names of many of these establishments (and radio programs) and incorporated them into names for his band to be known as for the various record companies they were recording for at the time.

Never one to shy from a compliment, he was known to claim to be the first bandleader to record jazz and broadcast on the radio. It is not known if either of these boasts are in fact true.

In 1924, Specht and his band filmed an 8-minute "dot and dash system" phono-film short for Dr. Lee De Forest. A photo of a NYC marquee reads:
GOLDHEEL8 & CIRCE
THE ENCHANTED
PAUL SPECHT BAND
IN TALKING FILM

Specht later claimed that he made several talking shorts for De Forest and that they were shown at the Fox Audobon Theatre in NYC as well as the Rivoli. [Note: This researcher can only validate one De Forest short featuring Paul Specht].
He owned a nightclub, The Pandora Club, on Broad Street in Philadelphia beginning in 1924. Paul's brother George was put in charge of the establishment.

Joe Gillespie and Hal Kemp both remained with Specht after the Carolina Club Orchestra returned to the U.S. in the Fall of 1924. Gillespie married Elsie Hild, one of Specht's secretaries, in December 1924 and soon afterward landed a job with Paul Whiteman.

Specht encountered great difficulties with British immigration on subsequent trips to the UK. At one point he traveled to Canada and practically purchased an already established unit in an effort to have a musical group to take to London. I believe this is the group that recorded for Perfect as the Canadian Club Orchestra.

Specht and his band starred in "Love at First Sight" with Doris Rankin and Abe Reynolds, a Chesterfield talking film (7 reels) in 1929. Do any prints exist?

At the beginning of the Depression, Specht must have encountered difficulty in booking his bands as I have found a thick privately-printed booklet extolling his virtues with reproductions of various letters of congratulations reproduced on every other page. This in fact seems like a rough draft of what would later become more than a decade later Specht's semi-autobiographical book "How They Became Name Band Leaders."

He completely stopped recording in the early 1930s for some unknown reason. Was he responsible for some incident which caused him to be blacklisted? He continued to lead an orchestra throughout the '30s and even had a booking at the New York World's Fair in 1939.

Paul Specht passed on April 11, 1954 in New York City and was returned to his boyhood home in Sinking Spring, Pennsylvania for burial.
Grand-nephew Patrick Hornberger writes about Uncle Paul:

The above photo of my brother Michael, myself and Uncle Paul was taken at the house in Sinking Spring around Christmas 1944. Uncle Paul was always able to return to his Mother at the large house on Penn Avenue (the house - now grey and converted to all apartments - is the other photo). Although young, I always remember his yellow Packard convertible and fur-encased wife Elsa.

Note that the cemetery just to the left of the house up the hill--this the St. Johns' Church where Paul is buried along with his Brother George, (manager of his Philadelphia operation and later a millionaire in his own operations), his sister (my Grandmother) and his Mother and Father - all overlooking the house below. The other photo is one of the walls in the Sinking Spring Historical Society building - the old Reading Railroad train station in town. The museum has perhaps the best collection of Paul Specht memorabilia. Incidentally, much of the Specht money came from a pottery factory before Paul was born.

My lasting memory of Uncle Paul was his funeral near Sinking Spring in 1954. A number of known musicians attended. My father pointed one out as Artie Shaw. I didn't know who Shaw was at the time, being more into the new music, like the Four Aces. I know who Shaw is today and I'm belatedly impressed.
Frank Guarente's World Known Georgians on Kalophon
During their European tour in 1926 Frank Guarente's "World Known Georgians" played in Switzerland during the months of March through November where they recorded those legendary eight sides that were only released in Switzerland on the Kalophon label (made by Vox). Featured below is an example of this flexi-record label.
Paul Specht's Music (MP3s)


Editor's Note
If anyone reading this has facts on Paul Specht's life, career, and later years and any information on other band members such as Johnny Morris, please do not hesitate to email me.


Acknowledgements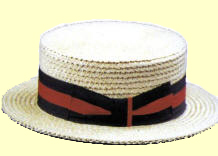 Special thanks and a tip of the old Jazz Age 1920's straw-boater to John Leifert for getting me hooked on Paul Specht and to Bob Conrad of Fort Lee, New Jersey for writing and providing the above Paul Specht biography. Also thanks to Enrico Borsetti for the 1923 band members photo id and Jason Morris, grand-nephew of Johnny Morris, for the Johnny Morris promo photo.

Also, appreciative thanks go to Paul Specht grand-nephew Patrick Hornberger for the Paul Specht family photos and childhood reminiscences of his Uncle Paul.


Alamac Medieval Grille
Appearance (1924)