Home
Convention City
Peggy English
Jane Green
Grey Gull Project
Marion Harris
Scrappy Lambert
Keller Sisters & Lynch
Ray Mayer & Edith Evans
Misc 1920's
New 1920's
1920's Sheet Music
1930's Vocalists
NJ Record Bash
Bee Palmer
Finding Bee Palmer
Pathé Rooster
Jack Pettis
Paul Specht AHO
Frances Sper
Aileen Stanley
Irene Taylor
Esther Walker
Margaret Young
Annette Hanshaw
Biography
Recordings
Sheet Music
Photos
Maxwell House Ads
Links
Brox Sisters
Photos
Recordings
Sheet Music
Movies
Bobbe Brox Obit
Cliff Edwards
Biography
Recordings
Movies
Books
Instruments
Sheet Music
Photos
Miscellaneous
Links
Ruth Etting
Recordings
Sheet Music
Movies
Photos
Jazz Age Links
Banjos
Dixieland Jazz
Search This Site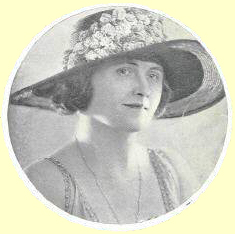 Margaret Young was a popular singer and comedienne in the 1920s. She helped popularize such hits as "Hard Hearted Hannah", "Lovin' Sam The Sheik Of Alabam'", and "Way Down Yonder In New Orleans".
Margaret Youngblood was been born on February 23, 1891 in Detroit, Michigan. She was one of four daughters of Bernard and Minnie (Walters) Youngblood. Margaret's sisters were Hattie (13 years older than Margaret), Bernadette (2 years older), and Eleanore (4 years younger).

Margaret Young was noted for her novelty renditions in an act that was frequently seen in New York as well as various other circuits of the day. Margaret Young was noted for her almost child-like, girlish but appealing vocals. Margaret's short recording career from 1920 to 1925 yielded some 58 sides on the Victor and Brunswick labels.

In the 1920's Margaret Young's sister Eleanore married the great JazzAge songwriter Richard Whiting. Margaret Young was the aunt of the great jazz vocalist Margaret Whiting and was affectionately known as "Aunt Maggie". Richard Whiting supplied Margaret Young with these hits:

Somebody's Wrong (Marshall-Egan-Whiting), Brunswick 2459-B, Apr 30, 1923.
What Do They Mean By Love (Whiting-Yellen-Franklin), Brunswick 2514B, Oct 23, 1923.
The Grass Is Always Greener (Egan-Whiting), Brunswick 2652B, Jun 6, 1924.
Ukulele Lady (Kahn-Whiting), Brunswick 2861A, Mar 31, 1925.

Margaret tried to make a comeback in 1949 after years of retirement. She recorded some records for Capitol Records that year. On April 21, 1956, Margaret makes a brief appearence on the CBS Radio Workshop Show "The Record Collectors". The show was hosted by John Dehner and guests included niece Margaret Whiting.

Margaret Young died on May 3, 1969 in Inglewood, California after a brief illness. She was 78 years old at her death. Margaret is buried along side her sister Eleanore Whiting (widow of Richard Whiting and mother of Margaret Whiting) at Holy Cross Cemetery in Los Angeles.
Margaret Young Discography
| Title | Label | Date |
| --- | --- | --- |
| Oh! By Jingo! Oh! By Gee! | Victor 18666-A | Mar 26, 1920 |
| Maybe You Think You're Fooling Baby | Brunswick 2253 | Mar 1922 |
| High Brown Blues | Brunswick 2253 | Mar 1922 |
| Oogie Oogie Wa-Wa | Brunswick 2265 | Mar 1922 |
| O-oo Ernest | Brunswick 2265 | Mar 1922 |
| Stumbling (With Bennie Kreuger's Orchestra) | Brunswick 2284A | May 1922 |
| Nobody Loves Me Now (With Bennie Kreuger's Orchestra) | Brunswick 2284B | May 1922 |
| Nobody Lied (When They Said I Cried Over You) | Brunswick 2297A | Jun 1922 |
| Oh! Is She Dumb | Brunswick 2297B | Jun 1922 |
| 'Way Down Yonder In New Orleans | Brunswick 2319A mx. 8579 | Aug 1922 |
| 'Way Down Yonder In New Orleans | Brunswick 2319A mx. 8580 | Aug 1922 |
| True Blue Sam | Brunswick 2319B | Aug 1922 |
| Lovin' Sam (The Sheik of Alabam') | Brunswick 2346A | Oct 1922 |
| He Loves It | Brunswick 2346B | Oct 1922 |
| Tomorrow | Brunswick 2359-A | Nov 1922 |
| Jimbo Jambo | Brunswick 2359-B | Nov 1922 |
| Whoa, Tillie, Take Your Time | Brunswick 2371A | Dec 1922 |
| Don't Think You'll Be Missed | Brunswick 2371B | Dec 1922 |
| Counterfeit Bill | Brunswick 2386A | Jan 1923 |
| The Bad Little Boys Aren't Goody-Good | Brunswick 2386B | Jan 1923 |
| Seven Or Eleven | Brunswick 2413A | Mar 1, 1923 |
| Wanita | Brunswick 2413B | Mar 1, 1923 |
| You Said Something When You Said Dixie | Brunswick 2442A | Apr 30, 1923 |
| Louisville Lou | Brunswick 2442B | Apr 30, 1923 |
| Papa, Better Watch Your Step | Brunswick 2459-A | Apr 30, 1923 |
| Somebody's Wrong | Brunswick 2459-B | Apr 30, 1923 |
| Stingo, Stungo | Brunswick 2475A | Jul 7, 1923 |
| He May Be Your Good Man Friday | Brunswick 2475B | Jul 7, 1923 |
| Mama Goes Where Papa Goes (Or Papa Don't Go Out Tonight) | Brunswick 2514A | Oct 8, 1923 |
| What Do They Mean By Love | Brunswick 2514B | Oct 23, 1923 |
| You Better Keep Babying Baby | Brunswick 2537A | Oct 26, 1923 |
| He'll Always Be One Of Those Guys | Brunswick 2537B | Oct 26, 1923 |
| Promise Me Everything, Never Get Anything Blues | Brunswick 2553A | Dec 3, 1923 |
| Dancin' Dan | Brunswick 2583B | Dec 4, 1923 |
| Why Should I Weep About One Sweetie | Brunswick 2553B | Dec 4, 1923 |
| Hula Lou | Brunswick 2583A | Dec 4, 1923 |
| Oh Gee, Georgie | Brunswick 2621A | Mar 21, 1924 |
| What Does The Pussy-Cat Mean When She Says "Meow" | Brunswick 2596B | Mar 24, 1924 |
| Big Boy! | Brunswick 2621B | Mar 24, 1924 |
| Nobody's Sweetheart | Brunswick 2596A | Mar 24, 1924 |
| Hard-Hearted Hannah | Brunswick 2652A | Jun 6, 1924 |
| The Grass Is Always Greener | Brunswick 2652B | Jun 6, 1924 |
| Doodle-Doo-Doo | Brunswick 2673B | Jul 30, 1924 |
| Too Tired | Brunswick 2673A | Jul 30, 1924 |
| Africa | Brunswick 2687A | Aug 4, 1924 |
| Under The Water | Brunswick 2687B | Aug 4, 1924 |
| Big Bad Bill (Is Sweet William Now) | Brunswick 2736A | Oct 3, 1924 |
| Me And The Boy Friend | Brunswick 2736B | Oct 3, 1924 |
| A New Kind Of Man | Brunswick 2764 | Nov 15, 1924 |
| Insufficient Sweetie | Brunswick 2764A | Nov 19, 1924 |
| I Want To See My Tennessee | Brunswick 2785-A | Dec 12, 1924 |
| Eliza | Brunswick 2785-B | Dec 12, 1924 |
| I Ain't Got Nobody To Love | Brunswick 2806A | Dec 19, 1924 |
| Nobody Knows What A Red-Head Mama Can Do | Brunswick 2806B | Dec 19, 1924 |
| Ukulele Lady | Brunswick 2861A | Mar 31, 1925 |
| Take 'em To The Door | Brunswick 2861B | Mar 31, 1925 |
| Yes Sir, That's My Baby | Brunswick 2939 | Aug 12, 1925 |
| Red Hot Henry Brown | Brunswick 2939 | Aug 14, 1925 |