Home
Convention City
Peggy English
Jane Green
Grey Gull Project
Marion Harris
Scrappy Lambert
Keller Sisters & Lynch
Ray Mayer & Edith Evans
Misc 1920's
New 1920's
1920's Sheet Music
1930's Vocalists
NJ Record Bash
Bee Palmer
Finding Bee Palmer
Pathé Rooster
Jack Pettis
Paul Specht AHO
Frances Sper
Aileen Stanley
Irene Taylor
Esther Walker
Margaret Young
Annette Hanshaw
Biography
Recordings
Sheet Music
Photos
Maxwell House Ads
Links
Brox Sisters
Photos
Recordings
Sheet Music
Movies
Bobbe Brox Obit
Cliff Edwards
Biography
Recordings
Movies
Books
Instruments
Sheet Music
Photos
Miscellaneous
Links
Ruth Etting
Recordings
Sheet Music
Movies
Photos
Jazz Age Links
Banjos
Dixieland Jazz
Search This Site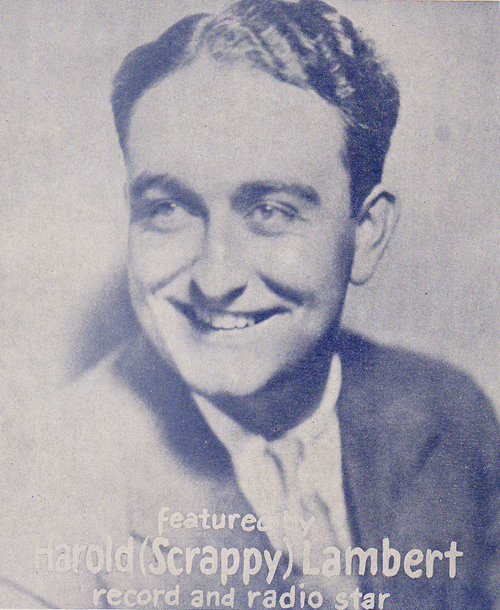 Born: May 12, 1901
Died: November 30, 1987

From the late 1920's and through the 1930's, Harold Rodman "Scrappy" Lambert was one of the most prolific vocalists of the era rivaling the number of recording appearances made by the legendary Irving Kaufman. Scrappy's vocals show up on hundreds of pop tunes of the era.

Scrappy's childhood hometown was New Brunswick, New Jersy. In his junior and senior years (1922-1924) at Rutger's Scrappy was a college football cheerleader. During college he played jazz piano with a group known as the Rutgers Jazz Bandits. In early February 1925 Scrappy and another collegiate vocalist Billy Hillpot (July 31, 1904-February 25, 1985) teamed to do an impersonation of two Smith Brothers - "Trade" and "Mark", the Original Smith Brothers for Smith Brothers Cough Drops that originated at the time over radio station WEAF which later became the National Broadcasting Company (NBC).
An interesting Rutgers Jazz Bandits tidbit from a Jazz Age 1920s visitor:
"My uncle, Hawley Ades (1909-2008), who was a principal arranger for Fred Waring from 1937 to 1968, succeeded Scrappy as director of the Rutgers Jazz Bandits. The group mostly toured colleges in the northeast, and tended to use (at least when Hawley led it) Hal Kemp-like arrangements."
"First Scrappy and then Hawley turned down the efforts of a young Rutgers student named Ozzie Nelson to sing with the Jazz Bandits. Hawley told me that when he ran into Ozzie years later, after Ozzie's big success as a bandleader, Ozzie was very gracious about the earlier rejection of his singing efforts."

In 1926 Ben Bernie discovered the Lambert-Hillpot duo and signed them as a specialty act with his orchestra. Shortly thereafter Scrappy's career blossomed with daily recording sessions starting at 8 in the morning in midtown Manhattan sometimes paired with Billy Hillpot. For most dance and jazz songs of this period the orchestra would provide a musical intro, followed by the vocalist's refrain, and ending instrumentally with the orchestra. Such was the characteristic of most of Scrappy's appearances on 78rpm's during that time. Scrappy and Billy were with the Ben Bernie Orchestra from 1926 until 1928.
Throughout his productive career Scrappy sing vocals with the best bands of the Jazz Age - Red Nichols, Nat Shilkret, Jack Pettis, Goofus Five, Frankie Trumbauer, Arthur Schutt, Adrian Schubert, Ben Selvin, Sam Lanin, Bob Haring are just some of the many orchestras Scrappy recorded with. Although he had a contract with Brunswick Records Scrappy recorded for some of the "cheaper" labels like Domino, Harmony, Gennett, Vocalion, Paramount, and OKeh and ofter under various pseudonyms like Burt Lorin, Glen Burt, Buddy Blue, William Brown, Harold Clarke, and so on. One interesting pseudonym used by Scrappy was "Rodman Lewis" where Rodman was taken from his middle name.
In the 1930's Scrappy and Billy Hillpot could be found on the radio reprising their Trade and Mark comedy routine on the new upstart radio network NBC. Later Scrappy appears with the Showboat Four in Maxwell House's Show Boat on radio. Also in that same weekly radio show was Annette Hanshaw. This group lasted until 1943 when Scrappy quit singing. Scrappy also did a stint with the famous Jazz Age group The Revelers replacing Franklyn Baur.

Scrappy relates in a 29 August 1975 letter to Giles Brissoneau in Storyville Magazine: "My career as an artist ended that year [1943] when I was approached by MCA and offered a wonderful position as manager of their Coast office in Beverly Hills in charge of their radio department. Well, it didn't take long for me to make up my mind because I was getting older and realized that my singing career would soon end. Therefore, I accepted and have been tremendously successful ever since. I left MCA in 1948 and, after one year, set up my own agency. In fact, it is still in re-runs in parts of the country. I'm still active in the television industry along with my oil business and real estate."

While at MCA Scrappy packaged such shows as "Father Knows Best" and "Queen for a Day." Robert Young was one of his "acts" until they had a falling out around the time Young was starring in Marcus Welby, M.D.

Scrappy was married several times, once to a Radio City Rockette, and to Edna Johnson, of Newark, New Jersey, who had been a model and an actress. This marriage ended on December 1, 1931 after Edna had filed for divorce in Reno, Nevada.

Another marriage was to Pearl Rebecca Harris (later Hoag) (June 10, 1915-June 27, 2011) who was a very successful Broadway dancer, model, actress, a newspaper celebrity in comic strips and a fund-raiser for charitable causes. Pearl performed in ten Broadway musical productions: 1,590 dance performances spanning 1931 to 1939 at the Winter Garden Theatre, Ziegfeld Theatre, and Casino, Imperial and Majestic Theatres. She danced in Ziegfeld Follies of 1931, George White's Music Hall Varieties (1932), Hot-Cha! (1932), Strike Me Pink (1933), Ziegfeld Follies of 1934, Life Begins at 8:40 (1934-1935), At Home Abroad (1935-1936), two productions of The Show is On (1936-1937) and Leave it to Me! (1939). In the early 1940's Scrappy and Pearl moved to California. The couple later divorced and Pearl became the proprietor of a gift and antique shop on Doheny Drive in Beverly Hills, California.

On April 16, 1968 Scrappy Lambert and former Las Vegas showgirl Elaine Viken are married in Los Angeles. Elaine will remain with Scrappy until his death in 1987.

Scrappy passed away of cardiac arrest at age 86 in Palm Springs, California on November 30, 1987. He was cremated and his ashes were returned to the family.
How did Scrappy get his nickname?
A Queensland Australia reader writes: "Do you know why he was called 'Scrappy?' I've always wondered that."

Well I found out that this is not a simple question to answer!

Based on the liner notes from the Emanon Records 1978 LP whose liner notes is shown on this page, Stan Wallman comments: "Scrappy is alive and well. He's married and has a 15-year old son, and at age 70 plus he puts in a full day's work in the oil leasing business. His stamina and vitality is amazing. Now you know why they call him 'Scrappy.'"

And this from record collector Randy Skretvedt:

The 1983 reissue LP on Origin Jazz Library, titled "Scrappy Lambert 1929-31 - Bye Bye Blues," has notes by Nathaniel Lester Ross which are a little (but not much) more revealing: "Having entered Rutgers University with the nickname of 'Scrappy," the origin of which he no longer remembers beyond the fact that it always signified his willingness to stand up for his rights, Lambert began preparing himself for the staid, time-honored legal profession."
Since we are guessing here as to the "Scrappy" nickname origins maybe an astute reader will have the answer.
Editor's note:
On this page I wish to pay homage to one of the many 1920's Jazz Age vocalists whom I enjoy. Some artists have sketchy, if any, biographical information available. By placing the vocalist's entry on this page I hope to gather some factual data on the artist via a relative and some knowledgeable person who knows of the artist. Please contact me if you can add more or correct the bio above.

I wish to thank Darci Lambert for providing input on the life of her great-great-uncle Scrappy Lambert. JazzAge1920's thanks also goes out to Catherine Judd for her information on the career of and Scrappy's marriage to Pearl Harris Hoag.

And a tip of the JazzAge1920's hat to Randy Skretvedt for his input to the Scrappy webpage.