Cliff Edwards was primarily a ukulele player. But he also assisted in the development of a new instrument - the tenortrope - with the Dopyera Brothers of the Dobro Company in the early 1930s. Pictured below is a picture of Cliff with the instrument which has a lyre shaped Dobro decal on the pegboard.
The wording on the picture says:
"I am more than pleased with the finished product of the Tenortrope. Little did I realize when I sat down and designed this instrument that it would develop as beautiful a tone as it has! Sincerely Cliff Edwards Ukulele Ike".
Thanks to EZ Marc (Marc Poschman) for the photo. Marc obtained the photo around 1976 from a friend who had found it at a thrift store or yard sale!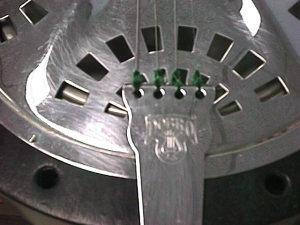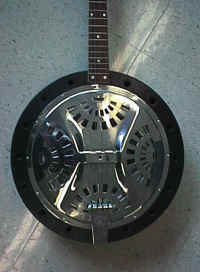 Pictured above are recent photos of another Cliff Edwards Dobro tenortrope. Note the inscription "Cliff Edwards Tenortrope" on the pegboard in the third photo. Thanks to Bob Foster and James Appel for providing these photos.
Interesting Story About This Tenortrope

The tenortrope (dobro) pictured above has an interesting story behind it. The gentleman who owned it states that his father had a chance meeting with a guy who appeared to be down on his luck in Los Angeles in the 1950's. The father offered to loan the fellow a few bucks with the tenortrope to be used as collateral. They were to meet later so the fellow could pay back the loan. Well as it turned out the guy never showed up so the father kept the instrument and passed it on to his son. The son states that his father always thought that the fellow who gave up the instrument was Cliff Edwards.