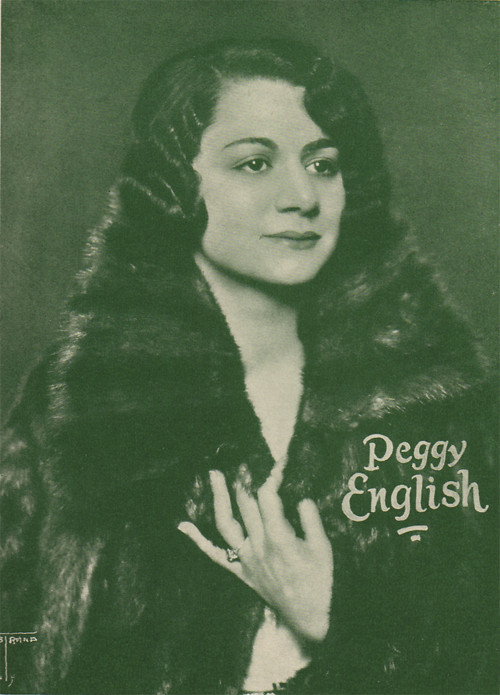 Peggy English is a wonderful discovery amongst the female vocalists of the Jazz Age 1920s. Her vocal style might be characterized as a cross between two other Jazz Age performers, Jane Green and Marion Harris. I affectionately call her the "Pseudonym Girl" because Peggy English recorded under at least 13 different names across many record labels during her short 1920's recording career. Peggy English recorded from 1925 to 1928, and then appears to try a comeback on a lone 1933 recording date as "Harlem Hannah" on the Bluebird record label. Her entire recording output consisted of 102 sides for the Vocalion, Banner, Cameo, Brunswick, Victor, Harmony, and Bluebird labels. Her piano accompanists included Rube Bloom and Bill Wirges.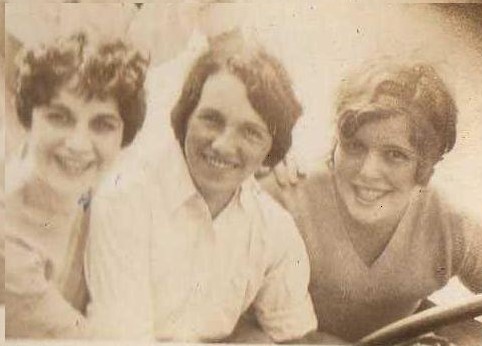 Peggy English, Frances Sper, unknown girl [maybe Peggy's sister Lydia?]
Camp Copake, NY (1928)


Marguerite Grace "Peggy" English was born on December 9, 1893 in Helena, Montana. Marguerite was is eldest daughter of Charles Francis English and Matilda "Tillie" English. Her father born 1867 in Iowa was a postal inspector. Marguerite's mother Matilda Issacs was born 1876 in San Francisco. Marguerite had two siblings - Lydia (1896-1990) and Charles Francis English (1902-1965).

In the early 1900's the English family moved from Helena to Manhattan, New York. In the 1920 Federal Census both Peggy and Lydia are listed as "Actress" in the occupation category.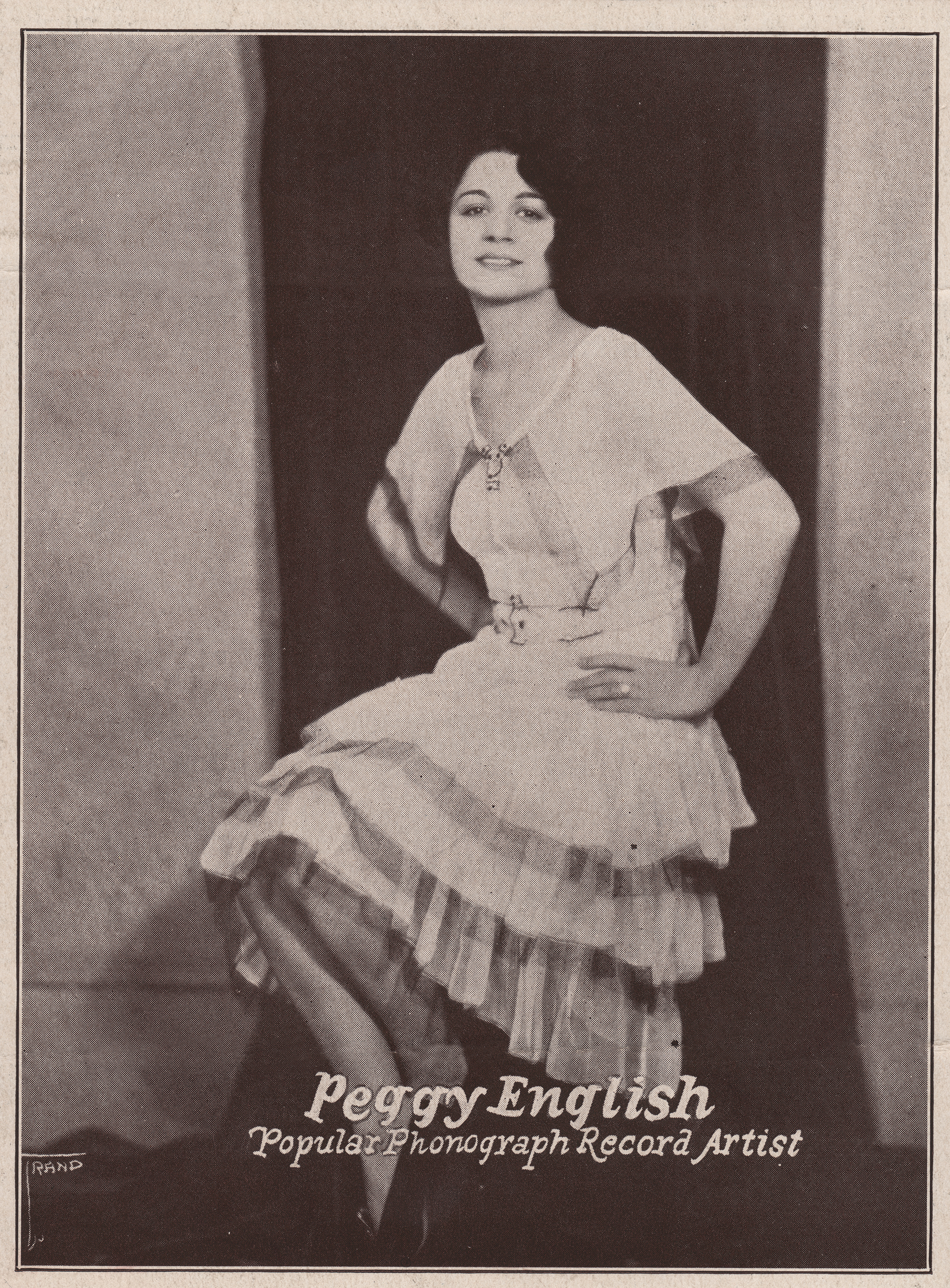 There has been some speculation amongst jazz record collectors that 1920's Jazz Age singer Frances Sper was really Peggy English. This notion is dispelled by the above photo which shows Frances Sper and Peggy English side by side. It turns out that Ms Sper and Ms English were actually pals who worked as part of the entertainment in the Summer of 1928 at Camp Copake just 100 miles north of New York City on the New York-Massachusetts state border. Frances Sper Horn (1896-1951) was married to Jack L. Horn and is the mother of the famous jazz musician Paul Horn. Frances Sper was an in-house pianist for Irving Berlin and had her own weekly radio show in New York on WNYC (as well as other radio stations) from 1926-1928.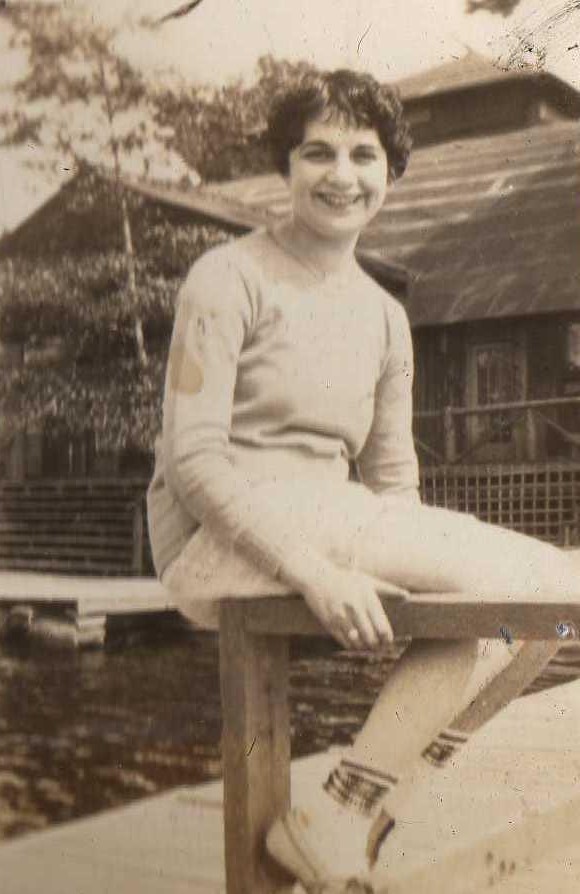 Peggy English
Camp Copake, NY (1928)


Peggy English's Tours
During the period 1927-1928 Peggy English, now promoted as "The Brunswick Girl", toured on the Publix Theatre circuit. In November of 1927 Peggy appeared at the Tivoli Theatre in Chicago with Frankie Masters and His Band in "Jazz á la Carte". In March 1928, we find Peggy featured in the "Jazz Grab Bag" stage production with the Ray Teal Orchestra and appearing in such cities as San Antonio, Atlanta, and Washington, DC on the Publix tour. Band leader Ray Teal (1902-1976) fronted his orchestra up through the mid-1930's but went on to become better known as a character actor in Western films. His most famous role was from 1960-1972 as the plain-speaking Sheriff Roy Coffee in the hit television series Bonanza.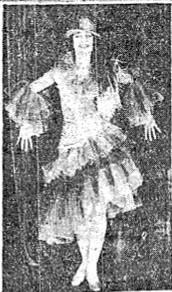 Peggy English
Touring in "Jazz Grab Bag"
With Ray Teal Orchestra (February, 1928)


In June 1930 Peggy English appears at the Palace Theatre in Washington, DC. By July 1931 Peggy's star billing has been diminished to second billing as she performs at a Utica, New York theatre. In October Peggy appears as a "blues singer" on WABC Radio with Max Smolen's Orchestra.

Peggy English returns to the recording studio one final time on April 6, 1933 for a one-day recording session as "Harlem Hannah ad Her Hot Boys" and "Hannah's Hot Shots". Out of that session came "Easy Rider" and "My Handy Man" which appeared on the Bluebird label.

No information can be found on Peggy's whereabouts until February 1934 when she could be seen with Johnny Johnson's Orchestra at the New Kenmore Rainbow Room in Albany, New York. Beyond this 1934 newspaper reference no further information on the life of Peggy English can be found by this researcher.


Peggy English's Recording Pseudonyms
Listed below is a complete list of Peggy English's pseudonyms used by the various record labels she recorded for in the Jazz Age. But this was a common practice during this era as a recording artist bound by contract to one of the major labels would be relegated to a pseudonym on their cheaper subsidiary labels sold in the department stores across the country such as Sears, Montgomery Ward, W. T. Grant, and the like.
Lillie Daltry
Nora West
Mae French
Dolly Prince
Peggy Britton
Jessie Shaw
Sally Brown
Winnie Smith (Sometimes erroneously cited as Peggy but Winnie Smith is a pseudonym for Frances Sper)
Marjorie Adams
Harlem Hannah & Her Hot Boys
Hannah's Hot Shots
Note that some of the pseudonyms have a British influence about them. This makes me wonder if the record label names were a creation of her imagination or a record executive's whimsical fancy playing off of Peggy's last name of English?


Peggy English and Jane Gray
Peggy English had yet another recording alter-identity. She recorded under the name of Jane Gray exclusively on the Harmony and Velvet Tone labels. The Jane Gray recording era ran from 1926 to 1928 where Jane and Peggy alternated record releases throughout that time period. Peggy English would record as Peggy in a New York studio one day and then as Jane Gray in the next day's session. Peggy's releases were usually on the Vocalion label while Jane's were all issued on Columbia Record's Harmony and Velvet Tone, Harmony's sister label. In 1928 Peggy appears as Jane Gray with the University Six on Harmony 591-H.

The Jane Gray identity appears to be another British-influence pseudonym derived from Lady Jane Grey (1536-1554) of English royalty, although the preferred spelling is Lady Jane Grey, not Gray. Lady Jane Grey is popularly known as "The Nine Days Queen".