Pierce Brothers Valhalla Memorial Park
10621 Victory Blvd.
North Hollywood (Burbank), CA 91606
Phone: 818-763-9121
Not knowing the area I had a hard time finding the cemetery. You may have to stop and ask for directions as you get near it. It is a large cemetery which also contains the grave site of Oliver Hardy (he was cremated) and some other notables. As you enter the cemetery, stop at the office and ask for a map of the cemetery. This is the only way to find Cliff's grave. The receptionist at the office had never heard of Cliff Edwards even after I explained who he was. After leaving the office, Cliff's grave will be on left-most side of the cemetery under a tree surrounded by a couple of un-related grave sites. I was told that the Disney people had only placed a proper plaque on the grave in recent years.
Cliff Edwards is buried in Block G, Section 6414 of the cemetery. Click for Cliff Edwards in "Find-A-Grave".
Check out "Find-A-Grave" for other celebrities in Valhalla Memorial Park.
David Garrick at Cliff Edwards grave site, August 1997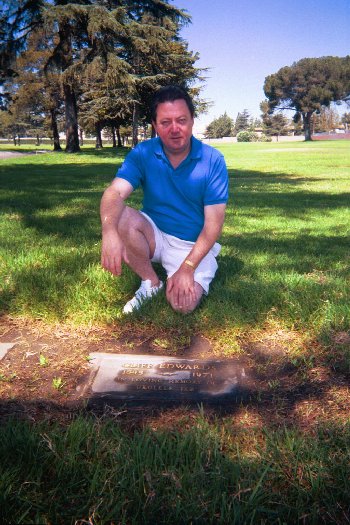 Cliff Edwards Headstone